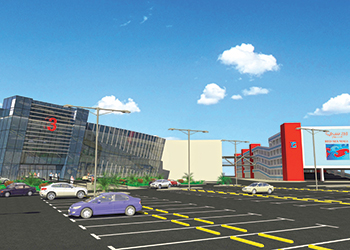 $67m expansion on way for mall
July 2017
A massive expansion of the Red Sea Mall in Jeddah is under way, adding hundreds of thousands sq m of gross leasable area (GLA) to the facility in what is said to be the largest such programmes in the kingdom's retail sector.
Red Sea Markets told Gulf Construction it is investing SR250 million ($66.67 million) in the expansion, in a step to develop its business and increase its assets.
Work on the first phase of expansion was completed in early May. Extending from Gates 1 to 8, this phase has added around 135,000 sq m of leasable area including a six-storey car-park. The main contractor was Ashi & Bushnaq Company (ABC). Midrar was the real estate management and consulting services contractor and Al Salem Johnson Controls – York was the HVAC (heating, ventilation and air-conditioning) contractor.
The next expansion phase, now under way, will boost the mall's GLA by a further 145,000 sq m. Tenders for this phase have been floated and appointment on the main contractor is now awaited.
Upon completion, the project will take the mall shopping, dining, leisure and entertainment experience to a whole new and exciting level, said Mohammad Iqbal Alawi, CEO of Red Sea Markets, the owner and operator of the mall.
The expansion will make the mall the biggest and the most inclusive shopping centre in Jeddah. The mall has a built-up area of 316,500 sq m, and features a five-star hotel and office tower, and at-grade and covered parking areas, all of which are linked to the 18 entrances of the mall thus facilitating easy access to the mall.
Alawi said the size of the expansion is colossal, with spaces set aside for a massive number of outlets and stores. Currently, the mall has 112 outlets that range from anchor stores to small boutiques.
The second phase of expansion includes a 4,000-sq-m plaza that will showcase premier international brands and a variety of restaurants. It will also increase the parking spaces by 1,500 taking the mall's total capacity to 5,000 parking slots with 18 different access points.
Alawi says he is very confident of the demand for the additional space. "Over the years, the Red Sea Mall has witnessed a growing waiting list of retailers that has been increasing at the rate of eight per cent annually," he said.
According to David Macadam, the CEO of the Middle East Council of Shopping Centres, the demographics in the GCC are a key reason for the retail growth in the region.
Some 65 per cent of the population is below the age of 25, which this bodes well for the retail industry.
Alawi said the Gulf's retail market value has reached $170 billion and Saudi Arabia represents 70 per cent of this value.
More Stories