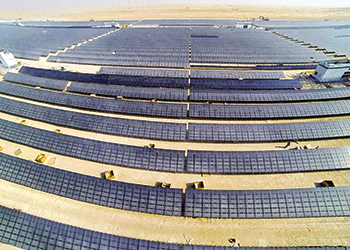 Four in race for MBR solar park final phase
July 2017
Four international consortiums have submitted bids to the Dubai Electricity and Water Authority (Dewa) for the 200-MW Concentrated Solar Power (CSP) plant being developed as part of the fourth phase of the Mohammed bin Rashid Al Maktoum (MBR) solar park.
The lowest international bid presented to Dewa was for 9.45 cents per kilowatt hour (kW/h), said senior officials who opened the bids early last month (June 6) at Dewa head office.
The Dubai utility is working to build the biggest CSP project in the world based on the independent power producer (IPP) model. The 200-MW CSP plant will be operational by April 2021, with other CSP projects eventually generating a total of 1,000 MW by 2030.
Last October Dewa had invited energy companies to send expressions of interest (EOIs) for the 200 MW solar CSP plant. By the end of that month, 30 international solar IPP players had sent EOIs. The request for proposals (RFP) was released to qualified bidders in January and the last date for submission of tenders was May.
"The Mohammed bin Rashid Al Maktoum Solar Park is the biggest single-site solar park in the world that is based on the IPP model. It will generate 1,000 MW by 2020 and 5,000 MW by 2030 with investments totalling Dh50 billion ($13.6 billion). The 13-MW photovoltaic first phase became operational in 2013," said Saeed Mohammed Al Tayer, the managing director and CEO of Dewa.
"The 200-MW photovoltaic second phase of the solar park was launched in March 2017. The 800-MW photovoltaic third phase will be operational by 2020, and the 200-MW CSP fourth phase will be operational by 2021," he added.
It will eventually save over 6.5 million tonnes of carbon emissions every year, supporting Dubai's objectives to promote its sustainable goals," added Al Tayer.
Meanwhile, financing for Phase Three of the MBR Solar Park has been completed, according to WAM news agency.
This marks the latest significant milestone for the Masdar-led consortium, with EDF Group's subsidiary, EDF Energies Nouvelles, which is developing the 800-MW project in partnership with Dewa, reported WAM.
Following the agreement, the third phase of the MBR Solar Park becomes the largest renewable energy project in the Middle East to receive Sharia-compliant financing, which is one of the fastest-growing segments of the global financial market.
Construction of the third phase is reported to be progressing as schedule, with the plant being delivered in three stages. Drilling and piling works are under way for the placement of photovoltaic panels. Completion of the 200-MW Stage A is due in 2018, the 300-MW Stage B in 2019, and the final 300-MW Stage C in 2020.
More Stories