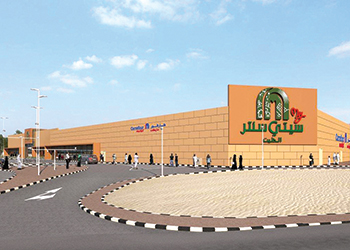 Majid Al Futtaim to launch its first mall in RAK
July 2017
Majid Al Futtaim was poised to launch construction work last month on My City Centre Al Dhait, its new upcoming neighbourhood shopping destination in Ras Al Khaimah.
The retail pioneer's expansion into the Northern Emirate comes as part of the company's strategy to increase its total investment in the UAE by Dh30 billion ($8.16 billion) by 2026. The new shopping mall is set to open early next year.
The new community mall, which represents an investment of Dh68.5 million ($18.6 million), is Majid Al Futtaim's third 'My City Centre' mall and is located between two growing residential communities in the north and southwest of Al Dhait in Ras Al Khaimah.
My City Centre Al Dhait, which will bring a diverse and tailored mix of shopping and dining outlets, will be home to 30 stores across 5,494 sq m of gross leasable area, including a 1,178-sq-m Carrefour Market, and will offer 117 parking spaces to visitors.
Majid Al Futtaim has expansion plans ongoing in Oman, Saudi Arabia, and Egypt, while redeveloping a number of its 21 existing retail and leisure
destinations.
Meanwhile, Majid Al Futtaim has broken ground on global retailer Carrefour's largest regional distribution centre at the National Industries Park (NIP) in Dubai.
The facility is four times the size of Carrefour's current largest distribution centre building in the region, said senior officials at the ground-breaking ceremony.
Younis Al Mulla, the senior vice-president (development and government Affairs at Majid Al Futtaim Retail), said the distribution centre will feature advanced warehousing, storage and logistics technologies.
"It is expected to save over 50 per cent energy per cubic metre in line with Majid Al Futtaim's sustainability goals for energy efficiency as well as its continuous efforts to 'Create Great Moments for Everyone, Everyday'," he noted.
According to him, the multi-temperature storage facility at the new distribution centre is designed to meet the storage needs of the different food types and dry foods as well as warehousing for non-food goods.
With a total storage capacity of over 400 million units, it can support Carrefour's brick and mortar stores in addition to the retailer's omni-channel business.
More Stories