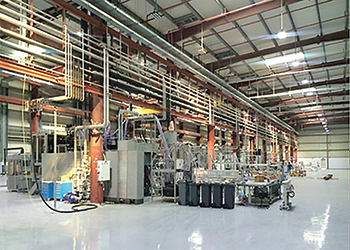 Zamil wins major deals
July 2017
Zamil group's subsidiaries continue to expand Saudi Arabia's industrial infrastructure, winning several significant contracts while this time making a foray into the kingdom's pharmaceutical sector.
Zamil Steel Construction Company (ZSCC), a subsidiary of the Saudi-based Zamil Industrial that specialises in pre-engineered steel design and fabrication, has won a number of multimillion-dollar contracts in the industrial sector since early this year.
Its latest successes is a full turnkey contract which involves constructing the headquarters and warehouse for Saudi Pharmaceutical Industries and Medical Appliances Corporation (Spimaco) in the Al Fawazia Industrial Area of Al Khobar in Saudi Arabia.
Spimaco is a Saudi market leader for the development, manufacturing and sales of pharmaceutical products and medical appliances. With this project, Zamil Steel has entered the kingdom's growing pharmaceutical sector.
The scope of the contract, which was announced last month (June), includes the design, fabrication, supply and erection of pre-engineered steel buildings, as well as provision of all engineering, procurement, and construction (EPC) works, including civil, electrical, structural, architectural, electrical, external and finishing works for the headquarters and warehouse complex.
Zamil Steel will also install the heating, ventilation and air-conditioning (HVAC), fire-fighting, low current and communications systems, and undertake secondary infrastructure landscaping and hardscaping, and design verification and validation works at the project site.
"Zamil Steel's reputation for turnkey project excellence in contracting services, product quality and prompt completion is on the rise throughout the region," says Mohammed Al Sahib, ZSCC director.
"The Spimaco headquarters and warehouse project provides us with yet another excellent opportunity for partnership in the growth of diverse businesses as we meet their needs for specialised, ready-to-use facilities on time, within budget and to their complete satisfaction."
The project is a fast-track, multi-component undertaking that requires a specific lead time for fitting and synchronisation, in addition to the completion of other complex safety and security requirements within a challenging time frame. The main structure of the warehouse is a steel building that has been designed and fabricated and will be delivered by Zamil Steel.
Among other challenges, since the project is located near the sea, the high water table increases the complexity of the scope by requiring adequate dewatering and shoring on all sides, says Al Sahib.
Early this year, ZSCC clinched two other turnkey contracts: the first for a new baby wipes factory for Saudi AlbiTek Company in the western region and the second, an extension for Zamil Alpla Plastics Middle East Company.
The baby wipes factory will be set up at Rabigh under a SR26.45-million ($7 million) contract. The main structure is a steel building that has been designed and fabricated and will be delivered by Zamil Steel. The project, which spans an area of 39,000 sq m, includes the factory, administration and utilities buildings.
"Our proven turnkey expertise was key to our selection for the Saudi AlbiTek manufacturing facility project, and we are proud to participate in the company's expansion strategy for Saudi Arabia. Our well-established network of design and materials manufacturing providers, teamed with specialists in project management services, is uniquely equipped to support the timely completion of this state-of-the-art manufacturing complex," says Al Sahib.
The extension for Zamil Alpla Plastics Middle East Company in Dammam's Second Industrial City will include three primary buildings. The project is valued at SR8.5 million ($2.26 million), under which ZSCC has been assigned to construct, commission the extension, includes structural, architectural, electrical and mechanical work on the three buildings.
The main extension structure is a steel building that has been designed, fabricated, and will be delivered by Zamil Steel.
"The Zamil Alpla plant extension project is a highly complex undertaking. It will require intense coordination among a number of disciplines and parties and synchronisation of various systems, in addition to the completion of a variety of complex safety and security requirements within a challenging time frame," says Al Sahib.
ZSCC is a full-service architectural, design, engineering and construction firm providing comprehensive solutions for industrial and commercial steel structures. The company offers EPC services for setting up new projects in different market sectors. Its services include design, fabrication and supply of steel buildings, as well as related civil and concrete works; the erection of steel buildings; and the installation of fire-fighting and fire-alarm systems, architectural materials, mechanical systems, electrical systems and plumbing works through turnkey contracts using full-site management teams.
ZSSC
Meanwhile, Zamil Structural Steel Company (ZSSC) – a business unit of Zamil Steel Holding Company, which operates under Zamil Industrial – continues to make significant inroads into the oil and gas market with its latest contracts being for two key Saudi Aramco projects.
Early last month, ZSSC announced that it has secured a SR34-million ($9 million) contract from Hyundai Engineering and Construction to supply steel structures for the oil conglomerate's ethane deep recovery facility project.
The Korean company is building the $727-million project for the recovery of ethane, propane and natural gas liquids from gas at Uthmaniyah, which is part of Ghawar onshore oilfield. The contract is for completion by November 2019.
ZSSC has been assigned the fabrication work and supply of pipe rack, equipment structures, and miscellaneous steel.
Meanwhile, in another major undertaking in the gas sector, Petrofac has awarded ZSSC an EPC project worth SR36 million ($9.6 million) to supply steel structures for the sulphur recovery facilities at Saudi Aramco's Fadhili Gas Plant.
Fadhili is a greenfield development located 30 km west of Jubail in the Eastern Province. When completed, the plant will have a capacity for around 2,500 million standard cubic feet per day (MMSCFD).
Over three decades, Zamil Steel has progressively widened its capabilities and gained immense experience to become a leading structural steel fabricator for the industrial and commercial sector.
More Stories