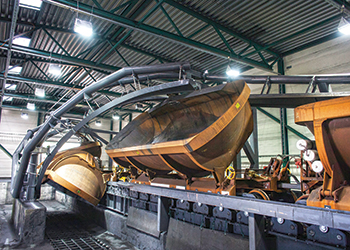 Steel prize inspires innovation
July 2017
Companies from the Middle East witnessed the latest innovations in high-strength steel designs at the Swedish Steel Prize 2017, the only international award for engineers in the steel industry that attracts competitors from all over the world.
The award was established in 1999 by SSAB, a global and regional leader in high-strength steel, to recognise and reward creative, innovative products or solutions that utilise high-strength steel.
The prize can be contested for by anyone who has developed a method or product that utilises the full potential of SSAB's high-strength steel.
"For nearly 20 years, the Swedish Steel Prize has recognised and rewarded innovative products, methods and processes utilising high-strength steel that have changed the industry in one way or another," says Ozgur Yalcin, area sales manager, Middle East, adding that there was a large group of customers from the Middle East who participated in the event this year.
The winner of the coveted prize this year was Kiruna Wagon from Sweden from amongst four finalists. The company was awarded for its innovative wagon solution, the Helix Dumper. Kiruna has used high-strength steel to develop a highly durable and far more efficient wagon solution than other ore wagons on the market.
Kiruna's Helix Dumper is a dumper wagon system for long-haul rail transport and efficient unloading of minerals. Use of advanced high-strength structural and wear-resistant steels made it possible to design lightweight wagons combined with a stationary helix terminal for on-the-fly rotary unloading. The ingenious solution has an unloading speed of 25,000 tonnes per hour, which is claimed to be twice that of other systems. Both Strenx structural steel and Hardox wear-resistant steel were used in the wagon solution.
A record 102 applications were sent for the 2017 prize from 32 different countries around the world. The other three finalists this year included Fermel from South Africa for developing a range of multi-purpose vehicles for safe transportation in mines; JMG Cranes from Italy for a highly compact crane with an extended field of application; and Wabash National from the US whose rear impact guard for trucks and semi-trailers exceeds North American standards also for demanding off-set impact.
SSAB is a Nordic and US-based steel company with production facilities in Sweden, Finland and the US.
More Stories