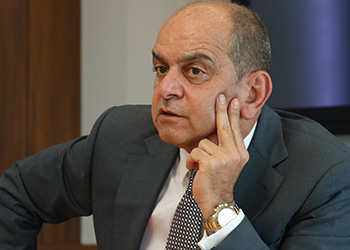 $272m Bloom boom
July 2017
UAE-based Bloom Properties has awarded five construction contracts worth over Dh1 billion ($272 million) since early 2017.
Work on the sites is progressing rapidly, and most developments are scheduled for completion in less than two years, it says.
The developer has selected leading construction companies to execute its projects. General Construction Company has been roped in for the main construction works of its key development Stella Maris, while Becon Construction has been signed up for Bloom Heights, Emirates Link Maltauro for Faya at Bloom Gardens and Soho Square besides Airolink for Bloom Education's Brighton College UK and Dwight School New York schools in Dubai (see Contractors).
Stella Maris is a major luxury waterfront development in Dubai Marina comprising 313 high-end residences ranging from one- to three-bedroom units, as well as four-bedroom duplex apartments and penthouses.
The 52-storey development is located within walking distance of public transportation options including Dubai Metro and Dubai Tram, providing easy access to several facilities and services in the Marina area.
Sameh Muhtadi, the chief executive of Bloom Holding, says: "The awarding of contracts demonstrates our commitment to delivering all our announced projects on schedule. We have appointed reputed contractors and suppliers to ensure strict adherence to the highest quality standards through all stages of construction."
Another project in progress is Bloom Heights, a mixed-use development in Dubai's Jumeirah Village Circle (JVC) that will consist of two high-rise towers with a shared podium.
Offering easy access to major roads, Bloom Heights will offer a total of 686 residential units from studios to one-, two- and three-bedroom apartments.
The main works have also commenced on Faya, the fourth phase of the Bloom Gardens master-planned community with 132 townhomes laid out in 28 four-unit clusters and four five-unit clusters.
Also under construction is Bloom's 89,000-sq-m Dubai school campus in Al Barsha South that will house two premium K-12 educational institutions – a British curriculum school affiliated with Brighton College UK and an American International Baccalaureate (IB) curriculum school affiliated with Dwight School New York.
The developer awarded the last contract for the construction of the Soho Square mixed-use urban development in the University neighbourhood of Saadiyat.
"These contracts mark a key step towards developing unique urban destinations with a sense of place that cater to the needs and desires of the community," Muhtadi adds.
More Stories