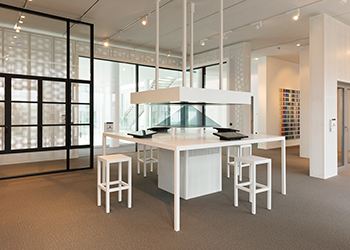 Reynaers delivers a great Experience
August 2017
Reynaers Aluminium has upgraded the product showroom at its Belgium headquarters, which merges physical and digital inspiration to showcase the company's top quality aluminium profiles and solutions.
The Experience Room as it is called is part of the expansion and renovation of the headquarters which has now been renamed as Reynaers Campus. This digitally-enhanced product showroom allows customers, fabricators, architects and project developers worldwide to experience Reynaers' solutions up close and offers inspiration by showing their application in various project types.
"Reynaers has always aimed at bringing value to its customers through innovative systems and services and now with this latest upgrade, customers in the region can gauge its extensive product portfolio when deciding on the product partner for their aluminium system requirements," said Ali Khalaf, managing director of Reynaers Middle East, the regional office of the European aluminium systems provider.
The company will be highlighting all of its latest developments and innovations during this year's Windows, Doors and Facades (WDF) 2017 trade fair in Dubai, UAE, in line with the show's theme, The Future of Building.
The event will be held at the Dubai World Trade Centre next month (September 25 to 27), where Reynaers Middle East will unveil the new concept design for Reynaers' stand at international exhibitions – thus becoming the aluminium system provider's first subsidiary to do so.
The various elements of Reynaers' Experience Room include:
• Product Finder: Architects are guided through Reynaers' architectural solutions, allowing them to check detailed product information and inspirational project photography while comparing technical specifications of the products. Visitors can collect and store this information effortlessly and revisit their selected solutions any time on a dedicated and personalised website.
• World of Reynaers: This features eight different project types, ranging from private homes to residential and office buildings. Customers can select the building of their choice and modify the design aspects of the integrated Reynaers solutions, such as design variants, opening configurations, element colours, etc. They can also view related project photography and get a preview on the monthly showcase projects.
• Colour Wall: This includes a variety of available colours and finishes ranging from metallic or anodised, ano-look, matt or gloss RAL colours to Tiger structure coatings and even special low-maintenance and scratch-resistant Coatex finishes.
• Sample Wall: This wall features corner sections of Reynaers' recent innovations throughout different product groups. A slidable touchscreen that can be positioned at any of the samples provides relevant information, such as the insulation or lacquering process, opening types, and drainage principles.
• Showroom elements: Visitors can view Reynaers' latest product innovations in the Experience Room and operate them, collect product information on the go and relive their showroom experience at a later point in time.
The finished elements include: MasterLine 8-HI turn-and-tilt window; MasterLine 8-VV ventilation vent; MasterLine 8 outward opening balcony door; SL 38-HI Classic, Ferro and Cubic double casement and turn windows; CS 86-HI/HV hidden vent turn-and-tilt window; CS 86-HI panel door; CS 77 pivoting door; CP 130-LS lift-slide door with open corner; CP 155-LS lift-slide door with zero threshold and pocket solution; Hi-Finity manual and motorised sliding door with glass corner; CF 77-HI inward opening folding door; CW 50 Glassfin (a bespoke solution used in the Creechurch project in London, UK); and CW 50 multi-level drainage.
Reynaers Aluminium provides innovative and sustainable architectural aluminium solutions including window and door systems, curtain-walling, sliding systems, sun screening, conservatories, skylights, screens and systems to incorporate blinds and ventilation grids. Established in 1965 in Duffel, the company has offices in more than 30 countries worldwide.
Reynaers will exhibit at Stand 7A281 at WDF 2017.
More Stories