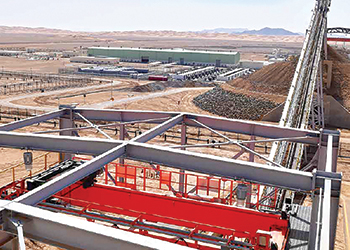 News in brief
August 2017
Fluor seals Ma'aden partnership deal
Fluor Corporation, a global engineering, procurement, fabrication, construction and maintenance company, says it has signed an agreement with Saudi Arabian Mining Company (Ma'aden) to support all its future projects located within and outside the kingdom.
Under the memorandum of understanding (MoU), Fluor would be considered for conceptual; pre-front-end engineering and design (Feed); engineering, procurement and construction management; and programme management besides contracting services for future projects.
Fluor says it has worked with Ma'aden for almost 10 years. During that period, the US-based company had executed work in excess of $15 billion for projects including the Ma'aden aluminium complex and the ongoing Umm Wu'al phosphate project.
"Fluor's legacy in Saudi Arabia dates back to 1947 and we have a strong partnership with Ma'aden, having delivered several of their mega-projects," remarks David Seaton, Fluor's chairman and chief executive officer, who signed the MoU at the inaugural Saudi-US CEO Forum in Riyadh recently.
"This understanding would allow both parties to increase their involvement in Saudi Arabia and expand their services outside the kingdom," he says.
Fluor Corporation is a specialist in designing, building and maintaining capital-efficient facilities for its clients on six continents.
"We look forward to helping them advance their future projects as they continue to expand and diversify their business," adds Seaton.
GS Engineering wins $865m Adnoc order
GS Engineering & Construction (E&C) Company has secured a 1-trillion-won ($865 million) order from the UAE-based Takreer to repair a fire-hit refinery plant at Ruwais, about 250 km of the UAE's capital city of Abu Dhabi, reported Yonhap News Agency.
As per the contract awarded by Takreer, a wholly-owned unit of Abu Dhabi National Oil Corporation (Adnoc), GS E&C will restore the burnt sections of its oil-processing plant by early 2019, said the Yonhap report.
In 2009, the Korean group was awarded the contract to build the Ruwais plant and this was promptly completed in November last year. However, a fire in January destroyed the gasoline and propylene production facilities, it added.
GS E&C already begun basic construction at the request of the client, and will undertake the entire process from designing, purchasing, and construction of recovery work for damaged facilities. GS E&C is currently engaged in a total of seven oil and gas plant construction projects in the UAE.
Carillion to exit key markets in region
British construction firm Carillion has confirmed it will exit construction markets in Egypt, Qatar, and Saudi Arabia, and it will also no longer take on construction public-private partnership (PPP) projects.
The company added it would only take on further construction work "on a highly selective basis and via lower-risk procurement routes", reported The Financial Times.
The group added that its exit from "non-core" markets and geographies would raise up to £125 million ($161 million) over the next 12 months, while the group strategic review would include further annual cost savings.
Carillion's CEO Richard Howson is reported to have stepped down with immediate effect as the firm starts "undertaking a comprehensive review of the business" following a profit warning.
More Stories