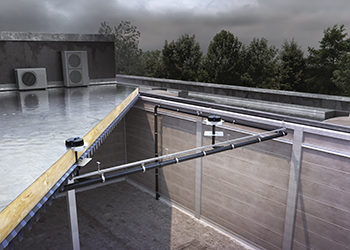 Pluvia boasts siphonic advantage
August 2017
Geberit, a specialist in sanitary and piping, says its compact Pluvia pipe system for roof drainage offers clear advantages over conventional systems, providing higher performance, greater cost efficiency and more design freedom.
The siphonic system fills up quickly and extracts the rainwater from the roof using the resultant negative pressure, unlike conventional systems that simply allow rain to run off through sloping pipes. Also, Pluvia roof outlets prevent air from being sucked in, which means double the amount of rainwater is discharged at half the pipe diameter. Furthermore, the systems offer greater design freedom in terms of planning, since there is no longer any need for pipelines that have to be laid with a slope.
Thanks to the high discharge rate of the siphonic system, fewer roof outlets are required, says a spokesperson for the Swiss multinational group. This results in savings in product material and the amount of work needed, while also preserving the roof.
She explains: "Because the pipes are filled completely, fewer drains are required. The result is greater flexibility in planning, while fewer discharge stacks and fewer connections mean lower installation and material costs."
As Pluvia pipelines are designed for complete filling, the pipe diameter requirement to the bare necessity. Also, the high flow velocity of more than 0.5 m per second when the pipeline is filled produces suction which contributes to the self-cleaning of the system. This ultimately means less time spent on maintenance.
Because these pipelines are laid horizontally, the drainage system does not result in any loss of space.
"Geberit offers one system from the roof to the underground pipe connection; its perfectly matched components ensure that the overall system functions flawlessly," the spokesperson continues. "Sophisticated details and a consistently high level of material quality reliably ensure durability, safety and smooth operation."
Thanks to the modular construction and the many models of the Geberit Pluvia roof outlet, the system is suitable for a wide range of installation situations on large buildings and roofs. In addition, accessories for virtually all applications are available, and can make the system highly flexible.
To make installation easy, Geberit offers its ProPlanner software system for calculating roof drainage on medium- to larger sized projects.
"The Geberit Pluvia module can be used to design the optimal configuration of your overall system. For example, it can determine the required number of outlets and the necessary pipe diameters. With a few clicks of the mouse, a fully dimensioned and calculated plan is created. Isometric visualisation, hydraulic certificates, material lists and options complete with individual hourly rates are available straight away as output results. Geberit ProPlanner provides each detail in an optimal and logical visualisation," the spokesperson explains.
Geberit also provides country-specific BIM (building information modelling) data for the popular Autodesk Revit BIM software solution. Regular updates ensure the data is always up to date, so clients can harness the advantages of holistic planning for Geberit Pluvia.
This way, customers can reliably avoid collisions with other technical building systems and other trades involved in the construction project can access the same version of planning at any time.
Pluvia drains roofs efficiently and reliably even under the heaviest rainfall, says the spokesman. "Because significantly less product material and space is required for siphonic roof drainage than for conventional systems, free space is created. Greater design freedom in planning, higher cost-effectiveness during installation and operation are all good reasons to choose Geberit expertise. Through tried-and-tested technology, innovative details and a holistic service, Geberit Pluvia has been setting new standards for many years."
"Geberit has, for over 40 years, supported architects, sanitary engineers, plumbers and building owners around the world in the use of Geberit Pluvia," the spokesman adds. "Thanks to the in-house product development and research in the field of hydraulics, customers have access to Geberit's comprehensive market and technology expertise."
She says reliability and trustworthiness are key factors when it comes to supporting complex projects with optimal support services. "The Geberit team is on site to provide help wherever it is needed. Whenever complex roof structures or difficult geometries pose a particular challenge, the Geberit team based in the Gulf is able to work with its clients to find a solution," she concludes.
More Stories