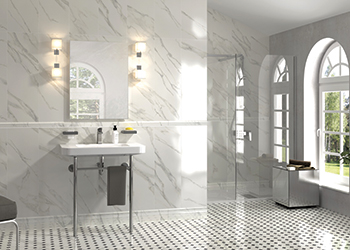 Kale grows rapidly in Mideast
August 2017
Turkish ceramic giant Kaleseramik plans to expand its share in the projects market in the Middle East, having already completed a number of reputable housing developments in the region.
With new investments in its factories, Kaleseramik now offers 80x80 cm and 80x160 cm porcelain tiles and 120x360 cm slim tiles for projects that require hi-tech products, says a spokesman for the company.
Kaleseramik started operations last month (July) from its new 700-sq-m flagship showroom in Dubai, UAE. "With this showroom, Kaleseramik aims to get closer to the market and its customers offering 'all bathroom products – from a single point'," says the spokesman.
In addition, with this new showroom, Kaleseramik will strengthen its position in the residential sector, in addition to the projects market, he adds.
Kaleseramik has grown rapidly with its Çanakkale Seramik, Kalebodur and Kale brands as well as with Edilgress, Edilcoughi and Campani which were acquired in Italy, making the Turkish company a key player in the international ceramic sector and creating a truly global brand.
Kaleseramik products are being supplied in the wider Middle East region through 50 showrooms. New showrooms will be opened during this year and next in further locations in Iran, Pakistan, Lebanon and Turkic republics.
This year (July 27), the company is celebrating its 60th anniversary, marking its commendable success since its foundations were laid with Çanakkale Seramik factories in 1957. Today Kaleseramik is Europe's third and the world's 12th largest ceramics manufacturer.
According to the spokesman, the Kale Group has pioneered the formation of the ceramics industry in Turkey, and has become an international industry giant with its investments. It has grown over the course of time with investments in machinery and equipment manufacturing, and defence, chemicals, electrical appliances, energy, IT, transportation, tourism and food industries.
Kale Group currently comprises 17 companies, and is regarded as a key Turkish industrial enterprise employing more than 5,000 people and spanning over a geography from across Canakkale to several locations in Turkey, Italy and Russia.
Apart from ceramics, the group is a top manufacturer in other sectors as well. In the construction chemicals sector, it is ranked first in Turkey and fifth in Europe in terms of production and sales volume. It is also taking on a leading and influential role in the defence and aviation sector. It is a major partner in Turkey's defence and aerospace industries, participating in Turkey's first National Infantry Rifle and Turbojet engine. Its products are offered in more than 100 countries via more than 400 sales points.
In terms of corporate social responsibility, Kale Group has adopted the principles of its founder Ibrahim Bodur, and has been contributing to society for more than 50 years, in education, health, culture, arts, science and sports.
More Stories