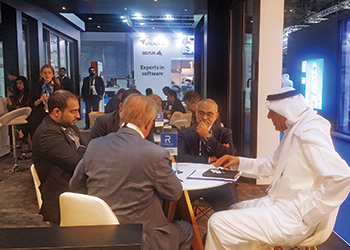 Reynaers shines at show
October 2017
Reynaers Middle East unveiled a new design concept stand at the Windows, Doors and Facades event in Dubai, highlighting its latest innovations and its modern digital focus.
Reynaers Middle East welcomed a large number of visitors at a specialised trade fair to its latest design concept stand, where it showcased its most popular aluminium systems and latest innovations amidst a new outlook which embraces the digital era.
This was Reynaers' second visit to the Windows, Doors and Facades event. However, its participation in 2017 was bigger than the previous time.
The 2017 event was held from September 25 to 27 at the Dubai World Trade Centre in Dubai, UAE.
Reynaers' theme for this year's show was 'Building in the Digital Era' to emphasise the major steps taken by the company towards a stimuli-enriched environment, which is the latest trend in almost all aspects of people's lives.
Commenting on Reynaers Middle East's participation at the expo, managing director Ali Khalaf, says: "Reynaers unveils a different stand design every three years in keeping with the group's brand guidelines. The idea is to create a unique touch and enable visitors to view Reynaers' highly sophisticated portfolio of aluminium systems – ranging from the economical to the luxury series of curtain-walls, sliding systems, doors and windows – in a customised setting. This year, a new stand design was launched in the region to showcase our diverse range of products."
He continues: "Like major developed markets, the Middle East region is unique in its requirements and we at Reynaers strive to bring to our stakeholders what is expected from an innovative and progressive partner. In an effort to fulfil this commitment, we have exhibited state-of-the-art variants of windows, doors and façade elements."
This year's highlight was the CW 50 ML (multi-level curtain wall) with 16 m span width and 4.6 m height. Khalaf says design requirements have been growing over the past decade as regards the aesthetic properties of facades and the CW 50 ML promises to fulfil the architect's vision of unique designs coupled with enhanced performance features.
In line with the momentum of the event's theme of living in a digitised world, visitors were introduced to the latest developments on the group level at Reynaers' headquarters. A corporate video showcasing the company's ability to offer virtual reality through 'Avalon' in a real time setting was also launched at the event. The Avalon room at the 'Reynaers Campus' lets project owners, designers and fabricators visit future buildings through a shared Virtual Reality (VR) experience.
"Architects, developers and fabricators can provide the details of their projects in advance to be able to experience the look and feel of their buildings through virtual reality and make changes or enhancements to their project plans through live simulations," says Khalaf.
Avalon is a high-end projection-based VR room, specifically configured for architectural applications and for groups of up to eight people. Five-sided projection immerses the user into an ultimate VR experience. Its 25 projectors with leading-edge laser technology create vivid high-resolution images that give form to the customer's architectural ideas that can be viewed through 3D glasses that track the user's movements, generating the 3D-illusion but still allowing him to see the people around.
This powerful tool radically changes the way the design of a building is evaluated and visualised, Khalaf claims.
Several other systems including MasterLine 8, the luxurious Hi-Finity Sliding Doors, and the CF 77 folding door series also generated a lot of interest among the attendees.
"We are also confident that some of the major developments that have taken place at the Reynaers group level will strike a chord with our Middle East customers and partners. The company has adopted the term 'Reynaers Campus' for the headquarters of the Reynaers Group, reflecting the exhaustive list of expansions and changes that have taken place within the organisation," Khalaf remarks. "This new name allows the company to strengthen the positioning of the Reynaers brand and associate all group activities in the sphere of innovation and high-technology."
Reynaers Middle East has executed several striking projects in the region including the Essence of Dilmunia in Bahrain; Sparkle Tower and Ministry of National Defence building in the UAE; King Abdul Aziz University buildings in Saudi Arabia; Kempinski Hotel and Apartments in Oman; Awtad Tower in Kuwait; Beirut 700 Tower in Lebanon; and the Estisalat headquarters in Egypt.
Belgium-based Reynaers Aluminium manufactures and markets innovative and sustainable aluminium solutions for windows, doors, curtain-walls, sliding systems, sun-screening and conservatories.
Besides standard solutions, Reynaers also develops tailor-made solutions for all market sectors, from residential to commercial and industrial projects. Its high-quality systems meet stringent demands in terms of comfort, security, architectural design, and energy-efficiency. The company acts a valuable partner for architects, fabricators, solar installers, project developers, investors and end-users.
Founded in 1965 and headquartered in Duffel, Reynaers employs over 1,770 workers in 40 countries and exports to more than 70 countries on five continents.
More Stories