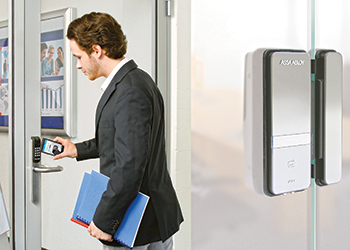 Assa Abloy joins UBM portfolio
October 2017
Universal Building Materials Merchants Company (UBM), a Saudi-based building materials specialist, has added Assa Abloy to its growing portfolio, in line with its commitment to deliver the best products from around the globe to the kingdom's construction market.
Assa Abloy is a world leader in total door opening solutions with a presence in more than 70 countries. It enjoys a leading position in areas such as access control, identification technology, entrance automation and hotel security. Since its formation in 1994, Assa Abloy has grown from a regional company to an international group with around 47,000 employees and sales of more than $8 billion.
Commenting on the new addition, a spokesman for UBM says: "UBM's strategic partnership with Assa Abloy further enhances the services it has been offering to its clients over the past 37 years. With this addition, UBM continues to build on its reputation as a total solutions provider of door hardware, mechanical and architectural products, from design to delivery of products and services."
In the Middle East, Assa Abloy security solutions meet both European (EN) and American (ANSI) standards, hence making them suitable for various types of projects. Its portfolio includes architectural door hardware, steel (Prometal) and wooden doors (Lockwood), and a wide range of masterkey systems, access control, electric locking products and glass hardware.
Assa Abloy architectural glass offers more than 2,000 products that fall under indoor, outdoor and bathroom segments. It has the widest and most complete range for architectural hardware solutions specialised for glass, says the UBM spokesman.
"These products combine sophisticated features to the aesthetics of your space. Most of them are compatible with access control systems, available within the Assa Abloy Group," he says.
Lockwood wooden doors and Prometal steel doors are both part of Assa Abloy Middle East. Lockwood manufactures high quality wooden fire-rated doors as well as outdoor and indoor wooden furniture such as pergolas, staircases and wardrobes. Meanwhile, Prometal manufactures high-quality certified security and safety doors including fire-rated, detention, bulletproof, blastproof, watertight, thermally-resistant and grill doors.
Prometal's high security and detention doors are complemented with solutions from Chubb Locks Custodial Services (CLCS). Apart from traditional cell locks and pass locks, CLCS has also developed and implemented the definitive Atlas (Advanced Technology Lock Access System) technology within many prisons, in response to demands for a more integrated, computer-mounted locking system.
Founded in 1979, UBM has branches throughout Saudi Arabia with its head office at Riyadh and regional offices in Al Khobar and Jubail in the Eastern Province and Jeddah in the Western Province. The company has a wide sales network in the kingdom where it distributes world-class products from well-known brands like Zurn, Wilkins, Hunter Douglas, Nibco, Wilson Taylor, Bailey, SHW, Mandelli, Rocky Mountain, Baldwin, Raven, and Spark.
UBM is a leading supplier of quality door hardware, mechanical and architectural products to the construction industry in Saudi Arabia, in addition to a wide range of specialised building materials. It maintains stock and also undertakes direct import of materials for specific requirements/projects.
UBM, which has contributed to many major projects in Saudi Arabia, is a total solutions provider to the construction industry, offering services right from engineering design to delivery of products and related services. It has an exceptional record of executing many large-scale projects in Saudi Arabia to the satisfaction of its various clients, and strongly believes in serving clients with value added services that reinforce its position of "concept to delivery and beyond".
The company's leading position in the building materials market is due to the fact that it pools quality products from renowned manufacturers, ensures stock availability, employs highly trained product specialists and offer excellent after-sales services, the spokesman concludes.
More Stories