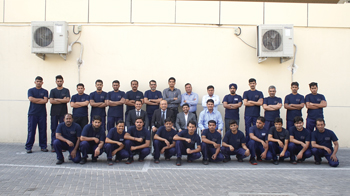 GRI leads in co-extrusion profiles
November 2017
Gulf Rubber Industries (GRI), a rubber manufacturing pioneer in the Middle East, continues to command the distinction of being the only manufacturer of co-extrusion profiles in the Middle East.
The Dubai-based company, which describes itself as a single, integrated source for high-tech moulded and extruded polymer solutions, has recently introduced EPDM (ethylene propylene diene monomer) façade sealing membranes, which conform to the EN 13361 standard.
"This EPDM rubber sheet is used for the sealing of facades, around windows (vapour control layer) or as through-wall flashing (damp-proof course layer)," Urfi Kidwai, the company's managing director, tells Gulf Construction.
"This membrane boasts very good thermal and dimensional stability; is quick and easy to install; retains permanent elasticity in temperatures ranging from -45 deg C to 130 deg C; and has excellent ozone, ultraviolet (UV) and temperature resistance," he adds.
GRI's current portfolio covers a wide range of products including extruded dense/sponge EPDM, silicone, neoprene, SBR (styrene butadiene rubber) profiles; TPV (thermoplastic vulcanisates) profiles; co-extrusion profiles; continuous corner profiles; setting blocks; moulded corners and moulded parts; vulcanised frames; flame-retardant profiles; silicone compatible EPDM; self-adhesive profiles; rigid PVC (polyvinyl chloride) profiles; and EPDM façade sealing membranes.
These products carry many excellent physical and chemical properties, says Kidwai, adding the materials comply with international standards including ASTM C-864, BS 4255 and DIN 7863.
GRI involves itself from the design stage to the installation of its products to ensure effective sealing.
"We inspect our products at different stages of manufacturing. At inception, the raw material quality is checked to ensure the specification matches our prerequisites. Quality is checked again at the mixing stage to ensure the master batch prepared is as per the specifications. After satisfactory confirmation of all these parameters, the compound proceeds for extrusion. With all the quality check points during the process flow, the final product is assured physical, chemical and dimensional qualities."
GRI products have been extensively tested for quality assurance. They have passed air infiltration and water penetration tests (ASTM E331-00) at 1,000 Pascal, conducted by Al Futtaim Exova in Dubai.
Its fire-retardant EPDM profiles have been tested by both local and international consultants. Thomas Bell-Wright International Consultants in Dubai evaluated the profiles in accordance with ASTM E84, the standard test method for surface burning characteristics for building material. They scored 55 on the Flame Spread Index (FSI) and 120 on the Smoke Development Index (SDI), says Kidwai.
Meanwhile, Interscience Fire Laboratory in the UK tested the profiles as per BS EN ISO 4589 - 2:1999 to determine the burning behaviour using the Oxygen Index. As per the results, the EPDM profiles showed a Limiting Oxygen Index value of 30 per cent.
GRI's flagship products are EPDM, silicone extruded rubber profiles and moulded parts, which are widely used in the construction industry for facades.
Given the demand for its products, the company plans to increase production capacity, especially in silicone rubber extrusion and moulding.
Commenting on challenges faced by the company, Kidwai says since GRI's business is associated with the construction industry. "Most of the time, the delay in getting approval affects our overall planning and minimises the potential of machine utilisation, that in turn affects the billing cycle and further delay in payments," he says.
While the GCC still remains its main market, GRI has recently started exporting to Far East Asia. In the past, it has supplied to various projects across the GCC including Villamar Towers in Bahrain (silicone profiles); Bukhatir Tower in Sharjah (EPDM and silicone compatible EPDM profiles); and the Jewel of The Creek in Dubai (EPDM profiles, setting blocks and rigid PVC profiles).
Among other interesting projects, the company is supplying to two prestigious projects in the West. One is 160 Folsom Street in California, US. Kidwai says this project requires different sizes of vulcanised frames (polyethylene profiles, rigid PVC profiles), which is a challenge to achieve. The second project is at Duncan Street in Toronto, Canada.
GRI is optimistic about prospects in the near term as there are some promising projects coming up in the GCC.
More Stories