Real Estate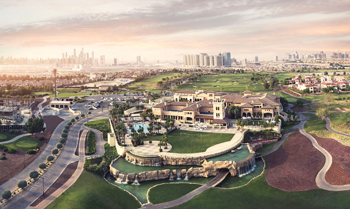 JGE awards key contract
November 2017
Jumeirah Golf Estates (JGE) has awarded a contract worth Dh400 million ($109 million) to Al Qabdah Building Contracting for its mid-market luxury residential community Alandalus in Dubai, UAE.
A Mediterranean-inspired collection of affordable luxury apartments and townhouses, Alandalus is set on a 375-hectare area, 75 per cent of which is made up of lush green landscaping, with lakes and nature strips throughout. JGE is a world-class residential golf destination offering luxury homes and leisure facilities amid two championship golf courses.
Al Qabdah, which starts work with immediate effect, has been appointed to construct six apartment buildings (towers C-H), while construction of two other buildings (A-B) is ongoing, says JGE. The entire development, including 715 apartments, 95 townhouses as well as the retail centre, is on track to be completed prior to Expo 2020, it states.
Featuring 715 one to four-bedroom apartments, Alandalus has set a new benchmark for the mid-market sector in Dubai. The homes have been designed to reflect a growing demand for outdoor living with Andalusian-inspired architecture and contemporary features. The community also boasts 95 townhouses, and offers a holistic lifestyle experience, with retail, plans for a hotel development, and JGE's second clubhouse, and all in the heart of new Dubai.
The UAE developer says the awarding of this contract sees JGE on track for phased handover from the third quarter of 2019, beginning with Tower C. Meanwhile, towers A and B are on track to be handed over by the first half of 2018.
More Stories