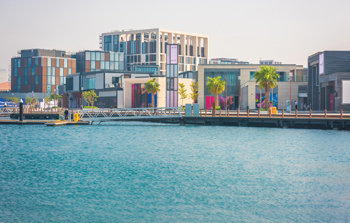 News in brief
November 2017
Meraas unveils first phase of key Dubai Creek project
Leading UAE developer Meraas has announced that the first phase of Al Seef, a major shopping, dining, entertainment and tourism destination, is now open to the public along Dubai Creek.
The 1.8-km-long destination aims to tell Dubai's story through architecture and unique experiences, enabling visitors to rediscover the heart of the city along its much-loved creek, says the top developer.
Meraas says the shopping, dining, entertainment and tourism destination offers a total built-up area of 2.5 million sq ft and houses close to 500 shopping and dining concepts, offering global cuisine overlooking the creek.
The second phase of the destination, scheduled for delivery at the end of the first quarter of next year, comprises an authentic suq, similar to those that were common in Dubai in the 1950s. With a selection of floating restaurants, a marina for private yachts, floating market and links to the Dubai water taxi network, Al Seef also celebrates Dubai's rich maritime heritage and the role that the creek has played in the city's transformation.
The leisure hub boasts three hotels with a combined 550 rooms, each with its own unique appeal.
Reign Holdings unveils $1bn investment plan
Reign Holdings has announced plans to invest up to $1 billion in the region's real estate sector through its development arm Arthur & Hardman.
It will focus on developing fully integrated world-class lifestyle communities that meet residential and commercial needs, says the Dubai-based global business conglomerate.
Arthur & Hardman is set to deliver 1,000 four-star hotel apartment units in Dubai's Jumeirah Village Circle (JVC) over the next few years to cater to the growing demand ahead of the Expo 2020.
Commenting on the plans, Samir Salya, the chairman of Reign Holdings, says: "We are focused on managing investments for regulated funds and will invest $1 billion in different sectors including construction and real estate on behalf of funds from the Far East and Middle East."
"Our next projects will allow us to deliver over 1,000 units at our four-star hotel apartments in JVC in the next three years. We are currently in talks to partner with a few well-established Italian restaurant chains for the new developments. This project will ensure investors receiving a guaranteed nine per cent ROI (return on investment) per annum," he adds.
Salya points out that the company had delivered up to 400 units in Dubai Sports City under its brand name 'Giovanni Boutique Suites'.
"We have drawn inspiration from Italy and so we have decided to choose Italian designs and names to establish the brand further," he says.
According to him, all of Reign Holdings' projects carry an Italian theme.
"The names we have chosen for our developments are: Roma (100 per cent completed and have delivered 400 units), Milano (currently under construction – 60 per cent constructed and will be delivered in June 2018), Naples (launching soon), Venecia (under design), Turin (under design), Florence (under planning) and Pisa (under planning)," explains Salya.
Invest AD, Brookfield set up new real estate JV
Invest AD, a leading asset manager based in Abu Dhabi, UAE, has joined hands with Brookfield Asset Management, a leading global alternative asset manager, to establish a new venture, with a view to creating institutional quality investment products comprising UAE real estate, including a real estate investment trust (REIT) under the regulatory framework of the Abu Dhabi Global Market.
REITs have become increasingly popular globally in the low interest rate environment of recent years, says Invest AD. They offer investors tradable units in real estate portfolios, with a high proportion of rental income passed through in the form of dividends. While generally less volatile than equities, REITs also hold out the prospect of capital gain in a rising real estate market, it states.
Faras Al Ramahi, the chief executive of Invest AD, says: "Invest AD's partnership with Brookfield, one of the most respected names in global real estate, will help to deliver innovative and value enhancing real estate investment products. Through the REIT, which is just the first product that the joint venture is planning, we aim to build a portfolio of high quality assets and bring other property owners across the UAE into a successful partnership, while offering investors the benefits of liquid access to stable, income-generating commercial real estate."
More Stories