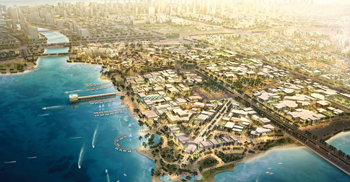 KAEC inks $533m project agreements
December 2017
King Abdullah Economic City (KAEC) said it has signed a series of agreements worth SR2 billion ($533 million) with various companies on the sidelines of the Time Forum last month. These included deals with the General Customs Authority and the Economic Cities Authority (ECA) to establish a deposit and re-export zone within the facility and also build an auto-racing circuit at Lagoona and Marina Dreams.
KAEC is the largest privately-funded new city in the world comprising King Abdullah Port, the Coastal Communities residential districts, the Haramain Railway district and the Industrial Valley. Situated on the west coast of Saudi Arabia, KAEC covers a 181-sq-km area of land.
The deals also included one for establishing a gas station and expansion of the Industrial Valley. In addition, there were agreements for the real estate development, tourism and leisure sectors, and supporting administrative services.
Time Forum is a platform where KAEC's leaders meet with partners from ministries, government agencies, the private sector and other interested parties. This year, more than 300 national and international investors and leaders from business and the government took part. The forum was held under the patronage of Saudi Arabian General Investment Authority (Sagia) governor Ibrahim Al Omar.
In his address, Al Omar said: "Under Vision 2030, we are creating new growth engines in strategic sectors such as transport, healthcare, ICT, renewable energy and local manufacturing to drive greater economic diversification in the Kingdom of Saudi Arabia."
Fahd Al Rasheed, group CEO and the managing director, gave a presentation on the latest developments, achievements and strategic vision of KAEC. Following this, the business leaders unveiled a package of projects and investment opportunities worth over SR7 billion ($1.9 billion) in the logistics, industry, leisure, commerce, housing, health and education sectors.
More Stories