Regional News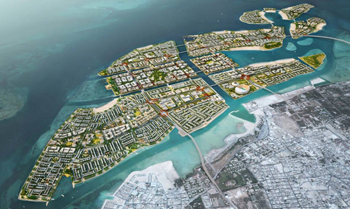 ADFD-funded projects make progress
January 2018
A technical delegation from the Abu Dhabi Fund for Development (ADFD) visited Bahrain recently to review the progress made on projects financed by the fund in the country. The fund to date has allocated a total of Dh10.5 billion ($2.85 billion) in government grants for 26 development projects in Bahrain.
Serving key infrastructure sectors, including housing, water, healthcare, and transportation, the projects funded by ADFD in Bahrain aim to support the ongoing efforts of the government to meet its development objectives.
The technical delegation noted that some of the projects are currently more than 90 per cent complete, while work is in full swing to deliver the remaining projects on schedule.
These include the Dh2.5-billion ($680.6 million) Northern Town project that is taking shape in two phases – including the construction of 2,694 housing units, and the city's infrastructure works; the Eastern Sitra Housing Project that is being developed through land reclamation for residential and other social services – once complete, the project will deliver 4,500 housing units valued at around Dh900 million ($245 million); the $119.7-million sewage treatment project in the Northern Town, where more than 90 per cent of the work has been completed to date; the expansion of Bahrain International Airport to accommodate more than 14 million arriving passengers, valued at Dh3.7 billion ($1 billion); the Dh330-million ($89.8 million) expansion of Sheikh Zayed Road; the Dh550-million ($149.7 million) Mohammed Bin Khalifa Specialist Cardiac Centre, where 95 per cent of the construction works are complete, with the project handover set for Q2 2018; a $49.8-million water supply network project, which is currently 75 per cent complete and set for handover in Q2 2018.
More Stories