Regional News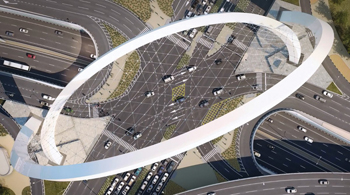 Qatar opens Lusail Expressway project
January 2018
Qatar has opened its ambitious Lusail Expressway project following the completion of all its main work including the arches at Interchange 5/6, the biggest and tallest monument in the country.
The expressway was inaugurated by Minister of Municipality and Environment Mohammed bin Abdullah Al Rumaihi in the presence of Ashghal president Dr Saad bin Ahmad Al Muhannadi and other senior officials of the consulting and construction companies that worked on the project, besides the South Korean ambassador.
One of the most prominent architectural monuments in Doha, the arches of Interchange 5/6 boast more than 9,300 tonnes of steel and stand 100 m high and 147 m wide, said Ashghal.
Elaborating on the Lusail Expressway, Al Muhannadi said: "With the launch, traffic was moved to the main carriageway of Lusail Expressway along the whole road from the West Bay area to Lusail City, which includes four lanes in each direction."
All nine tunnels on the project are now open, including the Al Gassar Interchange tunnels, connecting Lusail Expressway for those coming from West Bay heading left to Onazia Street. It includes two lanes in each direction, with a length of 600 m.
Lusail Expressway has an iconic architecture inspired by the Qatari marine heritage vernacular, combining the country's past and future. It is the main expressway on the seafront that stretches over the northern coast of Doha City.
More Stories