Regional News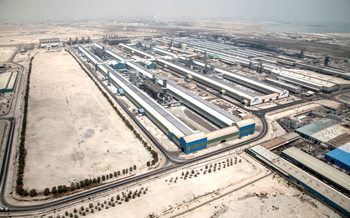 Alba's Line 6 smelter work in full swing
January 2018
Aluminium Bahrain (Alba), the first aluminium smelter in the Gulf region, has been making steady strides in the construction of its landmark Line 6 Expansion Project in order to meet the first hot metal (FHM) schedule on January 1, 2019, according to Alba chairman Shaikh Daij bin Salman bin Daij Al Khalifa.
Shaikh Daij said work is on track on the expansion, which upon completion, will position Alba as the largest single-site smelter in the world.
Alba's Line 6 Expansion Project is one of the largest brownfield developments in the region. Expected to begin production by January 2019, this project will boost the smelter's yearly production by 540,000 tonnes, bringing its total production capacity to 1.5 million tonnes per year.
With a Capex (capital expenditure of approximately $3 billion, the expansion involves the construction of a sixth potline utilising EGA's proprietary DX+ Ultra technology, a 1,792-MW power station and other industrial services.
Bechtel is the engineering, procurement and construction managements (EPCM) contractor for the Line 6 smelter expansion. For Power Station 5 (PS 5), GE and Gama consortium was awarded the engineering, procurement and construction (EPC) contract, while Siemens is the power distribution system contractor. J P Morgan, Gulf International Bank (GIB) and National Bank of Bahrain (NBB) are the financial advisors for this project.
More Stories