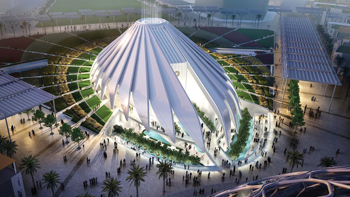 Work begins on UAE pavilion at Expo 2020
January 2018
The ground-breaking ceremony of the UAE pavilion – designed in the shape of a flying falcon, symbolising the country's leadership and pride – at the Expo 2020 Dubai site was held last month.
Sheikh Ahmed bin Saeed Al Maktoum, chairman of the Expo 2020 Dubai Higher Committee, chairman of Dubai Civil Aviation Authority and chief executive of Emirates Group, laid the foundation stone for the pavilion.
The ceremony also included the signing of the official agreement for the UAE's participation in the Expo, which was signed by Dr Sultan bin Ahmad Sultan Al Jaber, Minister of State and chairman of the National Media Council (NMC) – the entity tasked with overseeing the construction and management of the UAE Pavilion at international expos – and Reem bint Ibrahim Al Hashimy, Minister of State for International Cooperation and director-general of the Expo 2020 Office.
Sheikh Ahmed said: "The UAE Pavilion will undoubtedly be one of the most prominent attractions of Expo 2020, drawing in many millions to witness its futuristic design. It will be a wonderful opportunity to share our Emirati culture and achievements while showcasing our ambitious vision for the future. The pavilion will be an architectural marvel that all seven Emirates can rightly take pride in, both now at the ground-breaking stage, during Expo, and in legacy when it will become a lasting icon of our nation."
The UAE Pavilion covers an area of more than 15,000 sq m and is made up of four floors with the top storey dedicated for hospitality with an area of 1,717 sq m. A 588-sq-m mezzanine floor will house support units, and the two remaining floors consist of more than 12,000 sq m of exhibition space. The entire structure is expected to be completed by the end of 2019.
The NMC approved the design submitted by architect Santiago Calatrava after a seven-month design competition. Arabtec Construction – a subsidiary of Arabtec Holding – is building the pavilion.
More Stories