UAE Focus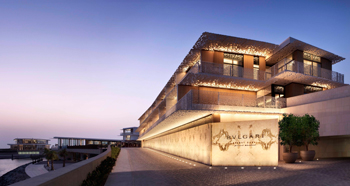 First-of-its-kind Bulgari Resort opens in UAE
January 2018
The Bulgari Resort Dubai, an urban oasis developed by Dubai­-based holding company Meraas, opened its doors last month.
Exclusively situated on the manmade seahorse-shaped island of Jumeira Bay, connected by a 300-m bridge to central Dubai, the resort is expected to become the destination of choice for visitors seeking the solitude of an island escape, the residential feeling of a private house, yet situated just minutes from the heart of the vibrant city and its cultural attractions, said senior Bulgari officials.
The Bulgari Resort Dubai, designed by renowned Italian architectural firm Antonio Citterio Patricia Viel, is only the fifth Bulgari branded hotel.
The 1.4 million-sq-ft property is a first-of-its-kind development for Bulgari, both in terms of scale and magnitude. With its Mediterranean village charm, the complex features the resort, joined by six residential buildings of 173 sea-facing apartments, 15 private mansions, a Beach Club, and Bulgari's first Marina and Yacht Club.
The resort itself includes 101 hotel rooms and suites and 20 hotel villas. The resort's five categories of villas enable families and friends to create a bespoke experience. The 540-sq-m Bulgari Villa is one of the resort's highlights, ideal for dignitaries or small private functions. Features include a large living area, a sunken bathtub and a private garden with a large outdoor swimming pool.
More Stories