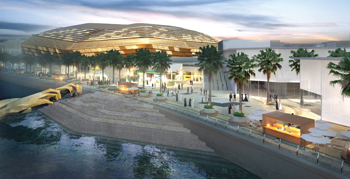 BAM named contractor for Yas Bay arena project
January 2018
UAE-based Miral, which oversees the development of Yas Island in Abu Dhabi, has appointed BAM International, one of Europe's largest contracting firms, to build an arena, plaza and the nearby retail and F&B (food and beverage) outlets planned for the upcoming development in the UAE capital.
The work on the arena started earlier this year, and is scheduled for completion by end of 2019, said Miral.
The arena is part of the recently revealed Dh12-billion ($3.26 billion) Yas Bay development taking shape on the southern end of Yas Island. When complete, it is expected to become one of the most iconic and vibrant waterfront destinations in the region.
The fully-covered indoor arena with an adjustable configuration to accommodate events with capacities up to 18,000, will be a focal point of Yas Bay and the first multi-purpose venue in Abu Dhabi, catering for the variety of local and global visitors to the emirate.
In line with this aim, Miral has appointed the region's premier operator of events and venues, Flash Entertainment to oversee arena management, it added.
BR Kiran, the chief portfolio officer at Miral, said: "The appointment of BAM International as our contractor of choice for the arena marks an important milestone in the development progress of the Yas Bay project."
"The arena will be a unique addition to the island's portfolio of attractions with the opportunity it brings to host world-class multi-purpose events and activities. This development complements our vision to make Yas Island a top global destination for leisure and entertainment," observed Kiran.
Reflecting Miral's commitment to provide a unique and seamless experience at Yas Bay, guests will step out of the arena and onto an outdoor plaza with an amphitheatre for hosting further events, alongside market stalls and open-air activities, he stated.
Retail spaces will be featured within walking distance of the plaza, offering visitors a selection of shopping options ranging from sports to gadgets.
On the contract win, Patrick McKinney, BAM's area director, said: "We are excited to work alongside Miral to help in bringing a superb new development with a unique design to Yas Island."
Yas Bay is one of three distinct areas under development by Miral on the southern end of Yas Island.
Joining it is the Media Zone featuring the new campus of twofour54 – Abu Dhabi's media zone authority – and the Residences at Yas Bay, an urban island community offering the complete Yas Island lifestyle.
More Stories