UAE Focus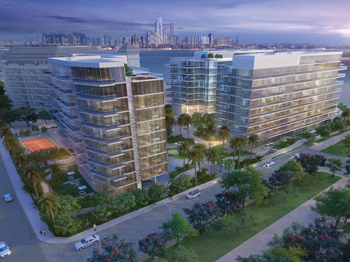 $408m Serenia Residences ready on Palm Jumeirah
January 2018
The Dh1.5-billion ($408 million) Serenia Residences, which offers resort-style beachfront living in Dubai, was due to be ready for occupation at the end of last month, according to its developer the UAE-based Palma Holding, a specialist in luxury residential and mixed-use complexes.
Designed by Hazel Wong, the famous architect behind the landmark Emirates Towers, Serenia Residences is one of the few exclusively residential communities on The Palm Jumeirah's Crescent. The 850,000-sq-ft project comprises 250 units of one- to three-bedroom apartments as well as penthouse suites.
Featuring contemporary architecture and layouts unique to The Palm Jumeirah, Serenia Residences' central theme is one of tranquil living, premium amenities and bespoke concierge services. The up-scale community project features the largest private, outdoor infinity pool for a residential project on The Palm, a lap pool, a children's pool, a play area, a state-of-the-art gymnasium and a tennis court, said the developer.
Barbeque areas with seating and fire pits situated on the beach provide the perfect al fresco dining experience. In total, 70 per cent of Serenia Residences' plot has been dedicated to landscaping, ensuring wide open spaces for uncluttered relaxation, it added.
More Stories