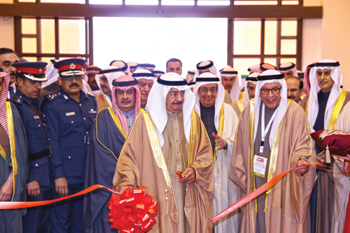 Alba renews support for Gulf Industry Fair 2018
January 2018
Aluminium Bahrain (Alba), a leading aluminium smelter in the world, has signed up as strategic sponsor for the Aluminium Sector at the Gulf Industry Fair 2018, the Northern Gulf's only event dedicated to promoting industrialisation, thus reaffirming its strategic support for the expo.
The Gulf Industry Fair 2018 will take place next month (February 6 to 8) at the Bahrain International Exhibition and Convention Centre under the patronage of HRH Prince Khalifa bin Salman Al Khalifa, Prime Minister of the Kingdom of Bahrain, said the event organiser Hilal Conferences & Exhibitions (HCE).
Alba will promote the aluminium industry at Gulf Industry Fair 2018, which reflects both the upstream and the downstream growth of the aluminium sector in the GCC.
Alba's CEO Tim Murray said: "Aluminium has become one of the pillars upon which Bahrain has built its economic diversification. As the GCC's leading aluminium smelter, we believe that the Gulf Industry Fair is an important platform to promote Bahrain and the region's aluminium industry.
"The Gulf aluminium industry is set to boom with Alba's brownfield project, Line 6 Expansion Project, which will further underline the GCC region as an emerging hub for aluminium production."
Welcoming the Alba tie-up, Jubran Abdulrahman, the managing director of HCE, said Alba's presence has encouraged downstream participation from leading downstream aluminium companies based in Bahrain such as Midal Cables and Gulf Markets International which, manufacture and market products from Aluminium supplied by Alba.
Gulf Industry Fair 2018 also carries the strategic sponsorship of the Bahrain Petroleum Company (Bapco) in association with the National Oil and Gas Authority (Noga).
The supporting organisations for the event include AHK Saudi Arabia, the German Saudi Arabian Liaison for Economic Affairs, PHD Chambers of Commerce and Industry of India and the Bahrain Industrial Association, it stated.
More Stories