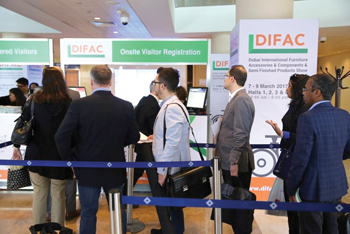 Expo to cater to $17.7bn GCC fit-out sector
January 2018
Over 55,000 homes are being added to Dubai's housing market in 2017-18, bolstering the $17.7-billion GCC interior fit-out sector, said the organiser of the upcoming Dubai International Furniture Accessories Components (Difac) exhibition.
A total of 25,000 residential units were expected to be delivered in Dubai last year and a further 30,000 in 2018, it explained, citing a recent report from Jones Lang LaSalle, a global real estate advisory.
Dubai will see a further 163,840 properties being built over the next five years from 387 projects. According to Ventures Middle East research, interior-based design and fit-out spend in the GCC rose from $15.5 billion in 2016 to $17.7 billion in 2017.
In order to capture the market, more than 300 exhibitors from 100 countries are all set to showcase their innovative solutions at the next edition of Difac show at the Dubai World Trade Centre from March 12 to 14. The event will run in conjunction with Dubai WoodShow, which will showcase new designs, style and product innovation on managing home space in an innovative ways.
The Difac exhibition showcases innovative furniture technologies, products and brands, giving the visitors a chance to educate themselves about the latest products in surfaces and fittings, elements and systems, semi-finished products and materials, furniture fabrics and upholstery materials.
Dawood Al Shezawi, CEO, Strategic Marketing and Exhibitions, organiser of the Difac, said: "As the economic growth accelerates with an increase in oil price, we see a strong growth in the region's furnishing, accessories, components, interior fit-out, home furnishing, home textile sectors, especially when home buyers move into their new homes."
Shezawi said that the growth of the furniture and interior fit-out industry will also be driven by innovation and creativity and the greater comfort and convenience provide by the manufacturers to the home owners.
Among such innovations is smart furniture or space-saving furniture that helps families to save space, or foldable or wall-mounted beds that could be tucked on to the wall during the daytime and released through a lever to be used as a bed at night, that offer greater convenience and extra space within a small budget home, he added.
More Stories