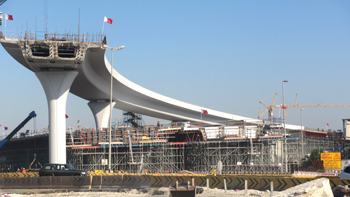 FUNDamental growth
Nearly every sector in Bahrain claims a major project or two in progress, with the GCC Development Fund ensuring work doesn't stop for dearth of finance.
January 2018
Infrastructural, real estate, tourism and industrial expansion will power the construction sector in Bahrain this year, as work on the country's largest infrastructure project – the airport modernisation programme – reaches its halfway mark.
There are big-ticket projects that are eagerly awaited including the $4-billion King Hamad Causeway, the fourth Manama-Muharraq crossing, the $1-billion King Abdullah Medical City, and a new exhibition and convention complex in Sakhir. And most of these are expected to go ahead with external funding despite the low oil prices, which have dealt a serious blow to the country's coffers forcing the government to pursue austerity measures.
In fact, the GCC Development Fund – initiated in the wake of the Arab Spring in 2011 – has played a crucial role in driving the construction sector over the past couple of years. Investment in real estate too has provided an important source of business for the construction sector.
According to research firm BMI's latest infrastructure report on Bahrain, regional funds provided to the government will remain a crucial support to infrastructure project activity during this year. "Over 2018, support from regional allies and firmer oil prices will see growth in real terms of 6.7 per cent year-on-year (y-o-y). Without this support however, there is little to drive activity in the construction sector with investors remaining cautious and the economy's weak performance leaving the government little room to ramp up spending," it says.
The UAE, for instance, has provided a $2.5-billion grant to Bahrain under the GCC fund. Last month, a delegation from the Abu Dhabi Fund for Development (ADFD) visited the kingdom to review the progress on the projects being financed by the authority.
The key areas of focus for the government have been social housing, transport and utilities construction projects. Bahrain has been making concerted efforts to address its housing shortage and has targeted the construction of a whopping 65,000 housing units. To achieve this ambitious goal, the country has turned to the private sector through social housing schemes such as "Mazaya".
Another key focus area is tourism infrastructure, in which the Bahrain government is reported to have investment more than BD4.9 billion ($13 billion) over the past few years, as part of efforts to diversify its economy, according to a Bahrain News Agency (BNA) report. This has given rise to a number of new hotels, retail and leisure developments in the country.
In the real estate sector, work is under way on a number of major projects such as Diyar Al Muharraq, Dilmunia, Bahrain Marina, and landmark commercial and residential developments by real estate developer Bin Faqeeh.
Airport
More than 40 per cent of the construction work has been completed on Bahrain International Airport's $1.1-billion modernisation project, which will quadruple its current size and enable it handle up to 14 million passengers. The ADFD-funded project is set for completion in the third quarter of 2019.
The Airport Modernisation Programme (AMP) includes a 207,000-sq-m new terminal that will see the number of check-in counters and passenger loading bridges double, while retail and commercial outlets are due to triple in size. The main contract of the project has been awarded to UAE's Arabtec and TAV Construction from Turkey.
Work is under way on a fuel farm and a multi-storey car-park to accommodate more than 3,500 vehicles, while construction has been completed on the central utility complex that will feed power and water to the airport.
The project also includes a 40-room transit hotel (airside hotel and spa) and will meet Leed (Leadership in Energy and Environmental Design) Gold specification.
Phase Two of the project includes a station as part of the Bahrain Light Rail network, according to Bahrain Airport Company's (BAC) chief development and technical officer Abdulla Al Janahi.
Industry
Major expansion programmes have been initiated at two of Bahrain's largest industrial ventures: Bahrain Petroleum Company (Bapco) and Aluminium Bahrain (Alba).
Last month, a $4.2-billion contract for the Bapco Modernisation Programme (BMP) was awarded to a consortium of TechnipFMC, Samsung Engineering and Tecnicas Reunidas. The project, which is targeted for completion by 2020, aims to expand the capacity of the Sitra oil refinery from 267,000 to 360,000 barrels per day (bpd) and improve yields of higher value petroleum products.
Meanwhile, construction work is under way on the Line 6 expansion project at Alba's aluminium smelter following the completion of earthworks. Expected to begin production by January 2019 under an estimated investment of $3 billion, the plant will make Alba the largest single-site smelter in the world. The expansion will boost the smelter's production by 540,000 tonnes per year (tpy), taking its total capacity to 1.5 million tpy.
Construction work is also in progress on a permanent LNG import terminal in Bahrain, which is due for commissioning in 2019. The 4.1-billion-cu-m-per-year Bahrain LNG facility consists of a floating storage unit (FSU). Bahrain LNG is being developed on a public-private partnership (PPP) basis.
In other projects, industry majors such as Armacell and Mueller are setting up manufacturing bases in Bahrain. Armacell, a global leader in flexible foam for the equipment insulation market and a leading provider of engineered foams, has broken ground on its greenfield manufacturing plant in Bahrain International Investment Park (BIIP). Starting production this year, the group, through Armacell Middle East Company, will manufacture a comprehensive range of products in the country, including high-density materials and elastomeric insulation for heating, ventilation and air-conditioning (HVAC) systems.
Also at BIIP, Mueller Middle East is building the region's first copper tube manufacturing facility which is set to open this year. Mueller Middle East is a joint venture between Bahrain's investment arm Mumtalakat Holding Company and GCC-based industrial projects developer and investor Cayan Ventures along with Mueller Industries, a leading global manufacturer and distributor of flow control and industrial products. The new facility will produce commercial copper tubes to serve regional air-conditioning and refrigeration original equipment manufacturers.
Roads & Bridges
Plans have been announced for a second causeway linking Saudi Arabia and Bahrain. The King Hamad Causeway is expected to be built at an estimated cost of $4 billion to $5 billion. The ambitious project, which is aimed at easing congestion on the existing route, will be built on a public-private partnership (PPP) model, according to Reuters.
Prequalification requests are due to be issued in the second quarter of this year. Besides a new four-lane road causeway running parallel to the existing one, there will be a new 70-km railway connecting a passenger terminal in Salmabad and freight facilities at Khalifa bin Salman port in Bahrain to the Saudi railway system.
The railway project is likely to be developed under a design, build, transfer, or design, build, maintain and transfer basis, the report added. Eight million passengers are expected to use the rail link per year by 2050 and some 600,000 containers and 13 million tonnes of bulk freight will be transported by the railway.
Work is also expected to start this year on the fourth Manama-Muharraq crossing that will connect Muharraq with Bahrain Bay in Manama. The estimated BD100-million ($265 million) project is due to be completed by 2020 and is part of the larger Muharraq Ring Road scheme – the second phase of which is close to 65 per cent complete. The project is being paid for by the GCC Development Fund.
Bahrain is set to build a major bridge that will link Manama to Isa Town, and connect Shaikh Khalifa Bin Salman Highway and Shaikh Isa Bin Salman Highway. Designs were due for completion by the end of this year, according to a BNA report.
Work is progressing on the $137.38-million Alba-Nuwaidrat interchange project, which includes transforming the existing Alba Roundabout into a three-level interchange. The Kuwaiti Fund for Arab Economic Development is financing the entire project as part of the GCC fund.
Housing
The Ministry of Housing is developing five residential projects – Northern Town, East Sitra, East Hidd Town, the Southern Town and Al Ramli housing scheme – featuring 40,000 homes. In addition, 25,000 units will be built under the Government Action Programme.
Work on the $695-million Northern Town project is being undertaken in two phases including the construction of 2,694 housing units, and the city's infrastructure works.
Reclamation work on the East Sitra Housing Project that span 800 hectares is in the final stages. Once complete, the project will deliver 4,500 housing units worth around $245 million.
Real Estate
Among the host of master developments taking shape in Bahrain, the Diyar Al Muharraq project has reported remarkable progress over the past year.
Particularly impressive have been the development at Marassi Al Bahrain, a distinguished urban project by Eagle Hills Bahrain, a joint venture between Abu Dhabi-based Eagle Hills and Diyar Al Muharraq.
In November, the developer broke ground on the newest residential component, Marassi Boulevard, featuring 240 apartments. The main construction contract was awarded to Kooheji Contractors. Eagle Hills Bahrain had earlier broken ground on Marassi Shores Residences, with Bahrain-based contractor Dadabhai Construction expected to complete it by Q3 of 2019.
Eagle Hills Bahrain has also unveiled plans for The Address Residences Marassi Al Bahrain, which includes the first Address Hotel outside the UAE, and Address Hotel Serviced Apartments comprising a total of 155 serviced apartment units.
In addition, Marassi Al Bahrain will feature a new 180,000-sq-m lifestyle shopping mall, Marassi Galleria.
Also located off Muharraq on the northeastern side is Dilmunia, a health and wellness island development, where a number of developers have started construction work on site. Among them is Dilmunia Mall Development Company, which has launched work on a family-centric mall concept over a 26,754-sq-m area in the heart of the island. A first-of-its-kind retail destination in the kingdom, Mall of Dilmunia will boast more than 200 retail outlets besides the kingdom's first state-of-the-art indoor ice-rink. The project is scheduled for completion in October 2019.
Naseej has started piling work on CanalView, a mixed-use residential and retail project comprising four residential towers with a two-level retail and food and beverages (F&B) podium, being developed over a 13,068-sq-m area. The CanalView residences are set in landscaped gardens next to a sweeping canal-side promenade.
Among other landmark developments, The Avenues, a first-of-its-kind commercial and entertainment mall in Bahrain with a 1.5-km waterfront location in the heart of the capital Manama, is set to see the development of its second phase following its recent opening.
Designed in a similar theme to The Avenues in Kuwait, the project's first phase boasts 130 retail stores, and a leasing space of around 40,000 sq m, half of which is devoted to restaurants and cafes, all of them overlooking Bahrain Bay.
Work on Phase Two is likely to be completed in 2020. In this phase, the west side of the project will be developed and will include an additional leasing space of 30,000 sq m comprising suq-style outlets. The scope of work on this phase also involves construction of the 210-room $66-million Hilton Bahrain Bay Hotel and Residences with direct access to the mall.
Another mega development is Bahrain Marina, a mixed-use project featuring residential, leisure, entertainment and marina facilities.
Aiming for Phase One completion by 2020, the development will include a five-star lifestyle hotel, serviced and freehold apartments, waterfront villas along with a shopping district, a fully-integrated family entertainment centre and a recreational waterfront space. A yacht club will also be built with a marina capable of berthing a vast number of boats of different sizes. Piling work on the project is expected to start shortly. Al Hassanain Contracting Company is responsible for the marine works.
Other key developments include the Hasabi Waterfront Development and Investment Gateway­-Bahrain projects by Manara Developments. Hasabi Waterfront Development is a mixed-use project, boasting three- and four-bedroom residential villas, each with a private jetty, as well as sea-view restaurants and coffee shops, beach facilities and residential buildings. Investment Gateway-Bahrain is coming up on a 600,000-sq-m area in Hidd, Phase Two of which is scheduled for delivery this year.
Meanwhile, work is well under way on a landmark residential tower – Al Tijaria – which occupies a strategic location facing the King Hamad Causeway.
Other key projects
Exhibition centre: Tenders are expected to be issued in the first quarter of this year for a new exhibition and conference centre to be built next to the Bahrain International Circuit on a 308,000-sq-m area in Sakhir. With a built-up area of 149,000 sq m, the project will boast 10 exhibition halls. Tilke, a global engineering and architecture company based in Germany, has been appointed to provide consultancy services for the project.
Medical City: Infrastructural work is currently being carried out for the $1-billion King Abdullah Medical City by Bahrain's Ministry of Works, Municipalities Affairs and Urban Planning. The massive project is being funded through a grant from the late Saudi King Abdullah bin Abdulaziz Al Saud and will be built on a one-million-sq-m plot donated by His Majesty King Hamad at Durrat Al Bahrain in the south of the kingdom.
More Stories