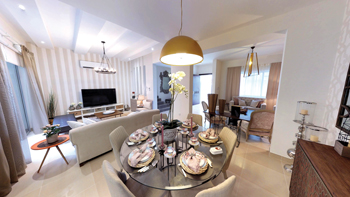 Home away from home
Diyar Al Muharraq is a city with a well-thought-out masterplan that caters to every requirement of today's discerning dwellers, writes ABDULAZIZ KHATTAK.
January 2018
Construction activity at Diyar Al Muharraq, off the Muharraq coast, is moving at a steady pace. The basic infrastructure for most of the projects that were launched has been completed, while further infrastructural developments are set to be announced this year, Diyar Al Muharraq officials told Gulf Construction during a media tour of the site.
Commenting on the progress at the development, Dr Maher Al Shaer, CEO of Diyar Al Muharraq, said: "The overall infrastructure linking all the projects within the development is progressing well, and is scheduled for completion this year. This includes the connection to the main government network."
Diyar Al Muharraq will be connected to the new Muharraq Ring Road project in two to three years' time, bringing this landmark development within 10 minutes of driving distance from the capital Manama.
Diyar Muharraq's latest strategy for Diyar Muharraq is to offer homes rather than the empty plots of land sold previously. The Al Bareh villas and Naseem projects are part of this strategy, Al Shaer said.
Al Bareh, which will be launched by February, comprises villas of various types some of which face the seafront. Al Shaer says buyers in Al Bareh can choose their own design within the available options, in addition to attractive instalment plans.
Naseem, meanwhile, will be a unique gated community within Diyar Al Muharraq, which is slated for launch by May. All villas will have a waterfront and sit on plots that range from 200 to 400 sq m in area. The development will also include a retail area and a marina, in addition to a residential apartments building near the main Diyar Canal. The mock-up villas will be ready by April.
Diyar Al Muharraq has made coastal connection the core of its development. Besides making waterways and canals an integral part of its design, the project has also dramatically increased Bahrain's beach areas with more than 40 km of waterfront, of which over 20 km have been assigned for public use. A popular beach open for the public is the Marassi Al Bahrain beach, considered one of the best in Bahrain.
The masterplanned city boasts a number of components, many unique such as the Deerat Al Oyoun and Marassi Al Bahrain, which will also boast the country's largest mall as well as its first Address hotel and residences.
Key components of Diyar Al Muharraq include:
Deerat Al Oyoun: Located on the northwest side of Diyar Al Muharraq, on a land size of 1.2 million sq m, Deerat Al Oyoun is being built in partnership with the Ministry of Housing. An agreement worth BD276 million ($730 million) was signed in 2015 with the ministry to purchase 3,100 residential units from Diyar Al Muharraq. These units can be bought by Bahrainis through the Mazaya social housing finance scheme.
Currently, 2,000 villas are under construction in Phase One, which is scheduled for handover in the first quarter of 2018, with the entire project expected to be handed over by the year-end.
Al Shaer said the project is well on target. The media team was shown around two mock-up villas. Different types of designs are offered, including traditional Bahraini, Spanish, Modern, and Mediterranean styles.
Marassi Al Bahrain: This is Diyar Al Muharraq's luxury-themed project and consists of many components, most of which are now in the substructure development phase. These include Marassi Residences and Marassi Shores, which are premium residential offerings featuring spacious one-, two- and three-bedroom apartments with panoramic sea views. Marassi Shores also offers studios and its landscaped podium features exclusive amenities above the multi-level car parking and ground level food and beverage (F&B) offerings.
Marassi Residences, which is directly connected to the Marassi Galleria mall, is structurally complete while Marassi Shores recently saw the completion of its third-floor slab.
Another residential development is Marassi Boulevard, piling on which has started.
It consists of four residential buildings with 240 units ranging from studios to three bedrooms. Lined with 700 sq m of retail space, the project faces Marassi Galleria, and is within walking distance to the waterfront promenade.
Meanwhile, the award of the main construction contract for the Marassi Galleria shopping mall, Vida hotel and Vida residences was expected by the end of last year (2017), with these components scheduled to be opened by Q1 2020.
Foundation works for the Marassi Galleria has been completed and work is under way on the substructure. "Marassi Galleria will be as big as Bahrain City Centre, and is one of Diyar Al Muharraq's strategic projects," says a project spokesman.
Last month, freehold investment plots were launched within Marassi Al Bahrain.
Sarat: This project was sold out three years back and people have already started building their homes, said the spokesman, adding Diyar Al Muharraq approves every design before it goes to the Muharraq Municipality to ensure all buildings meet the project's design guidelines. The smallest plot size in Sarat is 500 sq m, and the biggest over 1,000 sq m.
Diyar Homes: This was the first housing project in Diyar Al Muharraq and took into consideration the requirements of Bahraini families and includes a community centre containing a mosque, playgrounds, and market, with Diyar Al Muharraq's management ensuring that there is no duplication of services to avoid competition.
Most of the villas have been handed over to owners, with residents having already moved into both Diyar Homes 1 and 2, which are affordable homes.
Commenting on the demand, the spokesman said Diyar Homes 1 was sold off-plan within a month of its launch in May 2012 – even before the start of construction.
He said Diyar Al Muharraq supervises the area through its technical interface office. "There are rules to be followed when making changes to the houses. This keeps the place uniform."
The plot sizes vary from 185 to 250 sq m, featuring homes with three to five bedrooms with a built-up area from 230 to 320 sq m.
Dragon City: More than 50 per cent of the mall has been leased out. The mall has a monthly footfall of over 600,000 from all across the region. It has an adjacent multi-storey building that houses the mall staff.
Al Qamrah District: These have residential freehold plots, more than 95 per cent of which have been sold.
Amenities
In addition, Diyar Al Muharraq offers all basic and important amenities required for a peaceful and stress-free life. The development includes two fuel stations as well as six substations, which are under way. Water supply is from two ground tanks and one elevated tank, which are under construction. The development will be served by a government health centre and a private hospital – and talks are under way with hospital operators to run the facility.
Diyar Al Muharraq will have a town centre that will contain a Bahraini-styled retail complex including outlets for meat, fish, fruits and vegetables as well as confectioneries.
There will be three private schools in the development. One of them, Al Noor International School was inaugurated last month. The other two are Abdulrahman Kanoo International School (ARKIS) and Al Safwa Private School. ARKIS will be built on a total area of 26,608 sq m and will be located near Diyar Homes and Sarat. Meanwhile, a land sale agreement has been signed with Medad Real Estate Company to develop Al Safwa Private School on a total area of 30,000 sq m opposite Diyar Homes. It will be operated by Al Safwa in cooperation with Swedish school operators Kedtech, and will be a K12 school catering to Bahraini as well as expat students.
There will also be two government schools in Deerat Oyoun.
Meanwhile, for higher studies, Diyar Al Muharraq will host the Applied Science University, designs for which have been finalised.
Diyar Al Muharraq's main mosque is the Shaikh Isa Bin Salman Al Khalifa Grand Mosque – which was the first project built in Diyar Al Muharraq. It has education facilities and a small majlis (community hall).
Furthermore, Al Shaer said each project in Diyar Al Muharraq will have its own community centre as well as playgrounds, walkways and many open and green spaces throughout the development.
He said two marinas are being designed that will cater for residents and visitors. Additionally, a cruise ship terminal is coming up and all necessary approvals have been acquired for its design.
To be launched in a three years' time are the northern islands. Design work is set to start on two bridges that will connect these islands.
Among other developments, the masterplanned city will also have a dedicated industrial area, where plot development is almost complete.
More Stories