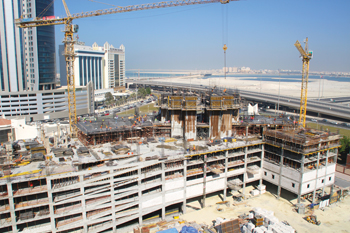 Al Tijaria, a benchmark for residential towers
January 2018
Construction is under way on one of the finest luxurious housing projects in Bahrain that is set to be a distinctive landmark as one approaches the capital from Muharraq.
The Al Tijaria Tower in Hoora will soar to a height of 46 floors, making it one of the tallest residential buildings in the country.
The project is positioned next to the Diplomatic area on a 3,856-sq-m site beside the Beit Al Quran. Located in the heart of Manama on a strategic site overlooking the King Hamad Causeway that connects the capital with Muharraq, Al Tijaria Tower will offer a total of 351 flats over 39 floors, comprising three-, two-, one-bedroom and studio apartments. The concrete-framed structure will incorporate six levels of car-parking providing a total of 468 parking slots, and a floor housing the gym and swimming pools.
The tower offers a comprehensive range of amenities including an outdoor adults' swimming pool with Jacuzzi, an outdoor kids pool with play area, an indoor infinity pool with Jacuzzi, separate gymnasiums for men and women including massage, steam room and sauna facilities, a business centre, a salon/spa and a games room. Other facilities include a lounge, three coffee shops, mini-market and barbecue area.
Work on the project was launched in May 2017 when Bahrain witnessed the pouring of one of the largest raft foundations in the country, with over 4,400 cu m of concrete poured over a continuous period of 28 hours and around 360 workers working around the clock on site.
Work is progressing well and in line with plans, according to Al Tijaria Real Estate Development Company, the developer of the project.
"The sixth-floor slab has been completed and the contractor is now preparing for the seventh-floor concrete pour. Overall, seven per cent of construction has been completed," a spokesman for Al Tijaria Real Estate Development Company tells Gulf Construction.
"The unique architecture of the building, and the multiple features combined, position the tower as a landmark in contemporary living, providing luxury and comfort," the spokesman says.
Furthermore, preparations are under way to create mock-ups on the first floor in time for the official launch of the sales and marketing plan.
Arab Architect is the consultant and Fundament is the main contractor on the project, which is expected to be completed and delivered by the fourth quarter of 2019.
Al Tijaria is 100 per cent owned by the Kuwait-based The Commercial Real Estate Company, which has already established a reputation in the region.
Founded in 1968, the company has completed a number of projects including Symphony Style Hotel Kuwait, Thatcher Residential Complex, and Symphony Style Mall.
More Stories