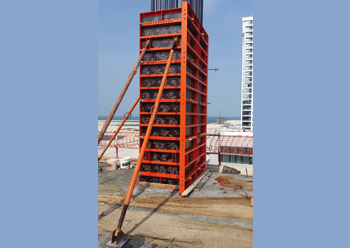 Paschal's Modular is strong on vertical front
January 2018
The Modular system from Germany's Paschal-Werk G Maier is fast becoming the formwork contractors in Bahrain turn to when constructing the vertical components of their developments, according to a senior official representing the company in the region.
In addition, many contractors are currently combining the benefits offered by Modular – which is designed for hand-set applications as well as crane dependent large-size formwork – with Paschal Deck to meet the requirements for the construction of columns and walls as well as slabs, says Amir Delghandi, general director of Paschal Concrete Forms, the regional office of the German formwork manufacturer.
The Modular system is being used for projects at Alba's Potline 6 expansion for the structure's footings, pedestal and walls by Atlas Transport, Mechanical and Contracting and the reinforced concrete (RC) wall of a substation by Poullaides Construction.
The system is currently being deployed to build columns for the new Coast Guard base in Muharraq by Projects Construction; the Marassi Shores residential development at Diyar Al Muharraq by Dadabhai Construction; a private villa by Fudament SPC; and a proposed two-storey villa in Sanabis by Al Razzi Contracting.
Other contractors currently using this modular formwork include Zayani Trading and Contracting to build the columns and core walls for a 66-apartment complex in Umm Al Hassam, and the columns and lift wall for a 10-storey building in Hajiyyat; Saleh Abdulla Kameshki and Sons for the columns, lift wall and beams for six buildings, each three storeys high, at the rehabilitation centre at Jau; Almoayyed Contracting for a watch tower at Jau; and Al Wardi Construction for the RC walls at National Sand Wash's proposed development.
Other contractors have combined Modular with Paschal Deck to construct the vertical as well as horizon elements of the projects. For instance, Kooheji Contractors has employed the Modular and Paschal Deck systems for the columns, core wall and slabs at Catamaran 1, the structure of which is expected to be complete by the end of this month (January).
"Our special variable columns is a new formwork product which was used for the first time on the Catamaran project in Seef," says Delghandi. "This system consists of four panels, each measuring 90 x 330 cm. With this special variable column, we can adjust to sizes of 20 to 90 cm in steps of 5 cm. The load capacity for this system is 80 kN."
Kooheji Contractors is also using the two systems to build the walls and slabs of the Ikea showroom in Salmabad and the columns, core walls and slabs of a retail development in Juffair.
The systems are shaping the columns, core walls and slabs at Kazerooni Heights 2 by Kazerooni Contracting, and the clinics and car-park, which form part of the BDF Hospital extension project, being implemented by Kuwaiti Manager Contracting (KMC).
In the industrial sector, the two systems are being used together by Delta Construction, which is building the RC wall of a control room for a proposed rectiformer base and control rooms at Alba's potlines 4 and 5; and by MCSC for building columns and slab of a substation and control room for the field pipeline and Sitra storage expansion project for Bahrain National Gas.
Meanwhile, for the construction of slabs, Arabian International Mechanical Contracting is relying on Paschal Deck for work on the Pearl facility at Bahrain International Investment Park (BIIP) in Hidd; and Jahecon Construction for a proposed residential building in Adliya.
Paschal Concrete Forms has recently seen the completion of several projects in Bahrain that used the Modular system, including an aeration tank, aerobic digester and feed averaging tank and chlorine contact tank for a sewage treatment plant in Madinat Shamaliya (by Ahmed Mansoor Al Aali); the columns and walls for a heritage house in Muharraq (Ewan Al Bahrain); columns and core walls for a proposed residential tower in Hoora (Hassan Al Ansari Contracting and Trading); and RC walls for a spare parts store for the Bahrain Defence Force (Mohammed Jalal Contracting).
Asfar Construction used Paschal Deck for the construction of the slabs of a seven-storey building in Sanabis, and May Almezeal Construction for a 10-storey building in Riffa.
Paschal is a sought-after partner for concrete projects worldwide, with customers in more than 40 countries and 50 years of experience.
Paschal Concrete Forms, which was set up in 1997 as the main office for the Middle East, has since become one of the leading suppliers of modern formwork solutions to the construction industry in the GCC.
Based at BIIP in Hidd, it has an assembling facility for modular formwork and a stockyard in Bahrain. In addition, with branches in Abu Dhabi, Dubai, and its Scientific and Technical Office in Dammam, Paschal is strongly represented in the Middle East and North Africa (Mena) region.
More Stories