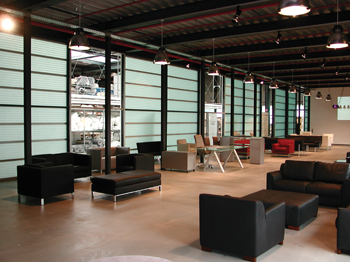 KAIE expands with niche range
Despite being a small player, Ebrahim K Kanoo's automotive and industrial equipment division has undertaken some interesting projects hinting at its latent strength, writes ABDULAZIZ KHATTAK.
January 2018
For a company that has been in the industrial business over merely the past couple of years, Kanoo Automotive and Industrial Equipment (KAIE) has taken off remarkably well. Among its wide portfolio of products, the Butzbach range of industrial doors and facades has created quite a buzz for their smooth operation and maintenance-free features.
KAIE manager for sales Sudhindra Kalibhat says these doors have an advantage over conventional ones and can be fitted with the latest automation, such as sensors, push buttons, mushroom switches, and radar, camera and remote systems. They can even be hooked to the home automation.
Currently, KAIE offers three types of industrial doors. These are the stacking types that save space; sectional doors that slide flat up; and Novosprint biparting doors that open sideways that make them suitable for areas that require fast operation, such as industries that require high hygiene or controlled environments.
The high-speed Novosprint is possibly the world's fastest industrial door with an opening speed of 5 m per second and closing speed of 2 m per second. The lateral opening adds to the speed, says Kalibhat.
Unlike vertically opening doors, the horizontal opening versions allow the user to access the entire door height immediately. Its dynamic light curtain and fast opening and closing eliminates the risk of a collision with the door and helps avoid dangerous forklift braking, substantially minimising crash risk.
It has applications as a hygiene door for the food or pharmaceuticals industry, and also has an escape door option with automatic opening, with recesses for crane runways or transport rails. Novosprint, with the 'ground closure' option, protects against draught or dust, infestation of pests, is ideal for food or clean room applications, and compensates for unevenness in the floor. The Novosprint comes in single or double sash measuring from 1 to 9 m in width and 6 m height. It can also be used as a hybrid solution with fibreglass doors for superior opening frequencies and combined with thermally insulation for night closing. Novosprint Duo 2017 is ideal for the separation of pedestrian and motorised traffic lanes which minimises the risk of collisions.
Kalibhat says the translucent fibreglass covering of the door allows up to 78 per cent of the light to pass through, allowing a bright interior even with the door closed thus saving on power. The natural light is diffused without hard shadows or blinding. Other features include good thermal and sound insulation that meets Bahrain's specifications, glare reduction and complete absorption of harmful UV (ultraviolet)-radiation.
Novosprint can also be fitted with vision panels and allows branding.
In case a part of the door gets damaged, only the damaged panels need replacement rather than the entire door, thus saving on costs.
Kalibhat points out that while Butzbach doors are a premium brand, they are economical in the long run due to their durability, ease of maintenance and reliable performance and come with a two-year warranty. He adds that the biparting doors feature chains, rather than springs found in conventional doors, that require less maintenance.
Ravinder Sharma, application engineer, KAIE industrial products, says the door springs have been tested for 500,000 openings.
Butzbach's Spacelite sectional door, meanwhile, has been developed specifically to meet extended industrial requirements, offer best light conditions and reliable operation. An integrated pass door with a barrier-free threshold guarantees efficient workflow and maximum safety, he says.
Its short opening and closing times support undisturbed logistic processes, while the absence of components that would require frequent replacement, such as torsion springs, guarantees a long-life and cost-effective operation. The door also operates under wind forces of 12 and affords maximum protection, thanks to its Class 3 security rating.
Spacelite's light transmitting fibreglass creates bright, shadow-free interior spaces.
KAIE is also in the process of acquiring the Varioplan facade system this year. Made of translucent fibreglass, the system is resistant to ball impact, making it suitable for sports halls and multipurpose halls. Also, its improved thermal insulation makes Varioplan an environment-friendly and cost-saving solution.
Varioplan weighs only about one-third of normal window panes and is particularly suitable for renovation tasks, where the structure of the building cannot support much vertical load, says Kalibhat.
Varioplan can also accommodate pass doors to create homogeneous, monolithic facades and is offered in a choice of colours.
"Varioplan helps create pleasant work environments while considerably reducing lighting bills," he says. At night, the fibreglass elements can be illuminated from the inside, giving the business greater visibility.
Kalibhat anticipates greater demand for Varioplan in Bahrain in view of the rising electricity prices.
KAIE will soon start offering a variety of shopfront solutions as well.
Projects & service
KAIE has supplied and installed dozens of Butzbach doors at numerous projects across the country, including 14 doors at three private villas, 50 doors for various automotive workshops and showrooms, and several for the Michelin Service Centre in Salmabad –where a massive 14-m-wide and 5-m-high single door has been installed.
For the upcoming Toyota CPD (Central Parts Department) project, the company has supplied 30 Butzbach doors of all three types and five fire-rated doors from another vendor (UK Rolling Shutter).
Kalibhat says KAIE proposed a solution for Ebrahim K Kanoo's air-conditioned tyre service centre – which earlier had air curtains – where the technicians were exposed to constant noise.
"We proposed installing biparting doors for day operations and stacking door for night closure. By combining both types, the service centre is now saving on power. The doors installed here are 8 m wide."
He stresses that while most door suppliers offer standard solutions, KAIE customises its products to client requirements. These doors, he adds, can be customised for openings measuring up to 40 m.
In terms of service and after-sales support, Srinivas Rao, manager service at KAIE, says Butzbach offers online diagnostic support to help troubleshoot client problems and its team frequently visits Bahrain.
KAIE has a well-structured service department. Rao says that in a year-and-a-half of Butzbach operations, KAIE technicians have handled many critical installations and can provide any tailored solutions.
More Stories