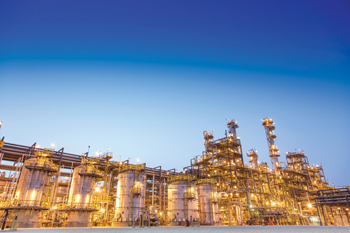 Industrial revolution
Saudi Aramco's expansion strategy is giving rise to many downstream industries in the Eastern Province, and boosting the regional economy.
January 2018
The Eastern Province of Saudi Arabia, home to the kingdom's massive oil reserves and the world's biggest oil producer Saudi Aramco, is buzzing with industrial and collateral infrastructural developments.
Last year, Saudi Arabia inaugurated the $20-billion Sadara chemicals plant which is said to be the largest chemicals facility constructed in a single phase anywhere in the world. It stands as a powerful statement of intent by Aramco to adapt to a changing energy environment and as a symbol of what a reformed Saudi economy could look like.
Aramco aims to become the world's largest integrated energy firm, with plans to expand its refining operations and petrochemical output. Last month, the oil conglomerate said it would invest more than $40 billion a year in projects over the next decade, according to a report by Reuters. The $414-billion proposal is up almost 25 per cent from a 10-year spending plan outlined earlier, and is being driven by its goal of maintaining its production capacity at about 12 million bpd.
"Our numbers compared to the previous business plan have increased; we expanded into other sectors. We are into so many sectors. Earlier we used to talk about oil and gas, but now we are in renewables and infrastructures," Aramco's CEO Amin Nasser was quoted as saying.
This ambitious growth plan spells good news for contractors and fabrication companies serving the hydrocarbons and petrochemicals sectors, through associated work involved in building roads, installing pipelines, and power transmission lines, steelworks, and ancillary civil works.
Locally, Aramco has signed agreements worth $4.5 billion with several oil and gas service contractors for mega projects to enhance its energy sustainability, diversify the economy, expand gas production, and localise content.
Three of the eight agreements were with Madrid-based Técnicas Reunidas (TR) under the Gas Compression Programme in the Southern Area. Other agreements signed cover the freeflow pipeline contract for Haradh and Hawiyah with China Petroleum Pipelines Company (CPP); engineering and project management services for the Zuluf Field Development Programme with Jacobs Engineering; the pipeline and trunkline project in the Safaniyah field with Abu Dhabi-based National Petroleum Construction Company (NPCC); and the slipover platforms and electrical distribution platform project in the Safaniyah field with McDermott Middle East.
Aramco is also spearheading the growth of industrial complexes such as King Salman Energy Park in Dhahran, where it is estimated to have invested $4.4 billion.
Among the latest investors in the park is Schlumberger – the world's leading provider of technology for reservoir characterisation, drilling, production, and processing to the oil and gas industry – which has confirmed plans to develop an industrial manufacturing centre.
According to senior vice president Upstream, Mohammed Al-Qahtani, Schlumberger is the 'first mover' to the King Salman Energy Park. "This presence will attract additional tenants to the Park, bringing the jobs and investment that are crucial to both Saudi Aramco's IKTVA (in-kingdom total value add) development program, and the Kingdom's Vision 2030."
The centre will be developed over a 500,000-sq-m land area, with the first phase planned to be completed in the second quarter of this year.
Meanwhile, Aramco intends to set up two industrial projects at Ras Al Khair Industrial City. Its investment in this industrial city is expected to reach SR21.8 billion ($5.81 billion).
The oil giant has signed two agreements with the Royal Commission for Jubail and Yanbu (RCJY), the official body that manages free zones in the country, for two parcels of land at Ras Al Khair where it will build an onshore drilling rig facility and a casting and forging unit.
Aramco awarded the first major contract for dredging, reclamation and marine structures for the planned construction of a shipyard complex in Ras Al Khair to a consortium comprising Saudi Archirodon and Huta Hegerfeld Saudia Company in August last year.
More Stories