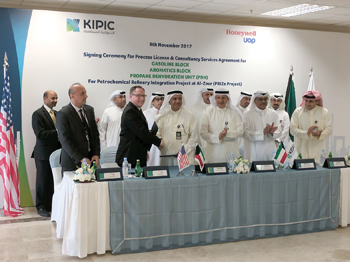 Honeywell connects plants
Honeywell's advanced software helps connect the entire plant operation – from workers to infrastructure – enabling it to perform more intelligently and eliminating unnecessary cost, downtime and complexity.
January 2018
Global software-industrial leader Honeywell has launched its 'Connected Plant' offering that helps manufacturers operate their plants more safely, more efficiently, and more reliably by leveraging the power of the Industrial Internet of Things (IIoT).
The product was showcased at the Abu Dhabi International Petroleum Exhibition and Conference (Adipec) held last year in November and is in line with its commitment to advance operational excellence in regional industries.
The company's broad range of smart technologies can maximise plant throughput and yields by seven per cent, improve plant availability by two per cent, and ultimately deliver a potential annual profit increase of up to $26 million, says a top company official.
"Oil and gas organisations in the Middle East are focused on optimising asset performance and safety in a way that increases profitability across the entire enterprise, and we recognise that making intelligent use of data is crucial to staying competitive," says Norm Gilsdorf, president, Honeywell Middle East, Russia, Turkey and Central Asia.
"At Honeywell, we leverage the power of IIoT through advanced software to connect the entire plant operation – from workers to infrastructure – enabling it to perform more intelligently and eliminating unnecessary cost, downtime and complexity. Honeywell has been supplying key technologies to support the global oil and gas industries for over 100 years."
Honeywell Connected Plant integrates the three core pillars of Connected Processes, Connected Assets, and Connected People. Through this approach, Honeywell ensures that operators have the ultimate tools to access and analyse data, in real time, to best understand the condition of their plant, people, and assets, making operations more reliable, profitable, and secure.
In addition to Connected Plant, Honeywell showcased several other products and solutions including Honeywell UOP's Connected Plant Services (CPS), part of the Honeywell Connected Plant's family of cloud-based services, which anticipates operational complications and offers real-time solutions to overcome them, thereby reducing unplanned downtime and improving underperforming assets.
Project
Meanwhile, Honeywell says Kuwait Integrated Petroleum Industries Company (Kipic) will use a range of process technologies from Honeywell UOP, a leading licensor of refining and petrochemical process technology, for the expansion of its refining and petrochemical complex at Al Zour, south of Kuwait City.
Honeywell UOP will supply technology licences, design services, key equipment, and state-of-the-art catalysts and adsorbents to produce clean-burning fuels, paraxylene, propylene and other petrochemicals.
"When completed, this will be the largest integrated refinery and petrochemicals plant ever constructed in Kuwait," says John Gugel, vice-president and general manager, Process Technology and Equipment at Honeywell UOP. "In addition to aromatics and propylene, the Euro-V fuels it will produce will be the cornerstone of Kuwait's clean fuels initiative."
The project includes a 50,000-barrels-per-day (bpd) residue fluidised catalytic cracker (RFCC) complex with ethylene and propylene recovery, and a 24,000 bpd Honeywell UOP Selectfining unit to produce low-sulphur gasoline. Two Honeywell UOP Merox units will be used to treat propane for propylene production, and isobutane to make clean-fuels blending components, including MTBE (methyl tertiary-butyl ether) produced by a UOP Ethermax unit. Also included is a Butamer unit to convert normal butane to isobutane.
The contract also includes a 66,000 bpd CCR Platforming unit with a 74,000 bpd naphtha hydrotreater to make gasoline blend stock, and an LD Parex aromatics complex – including the Honeywell UOP Sulfolane, Isomar and Tatoray processes – to make 1.4 million tonnes per year of paraxylene, a primary ingredient in plastics.
In addition, an Oleflex propane dehydrogenation unit will produce 660,000 tonnes per year of polymer-grade propylene – another basic component in the production of plastics, synthetic rubber and gasoline additives.
More Stories