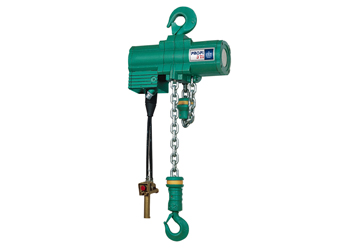 JDN hoists are versatile weightlifters
January 2018
JD Neuhaus (JDN) has released its Profi TI series, which comprises robust air hoists that are suitable for a host of general industrial applications.
The Profi TI series is extensive, but models from 3TI to 25TI (providing three to 25 tonnes lift/load capacity) are ideal for general-purpose use, even in continuous working processes, says a spokesman for the Germany-based company.
These units, he says, can be outfitted with many accessories to meet end-user needs, including various control systems (such as remote control) for precise positioning of loads, and a variety of trolleys to meet specific demands.
"Profi TI hoists offer many advantages," the spokesman continues. "These easy-to-operate, low-headroom, lightweight hoists are suitable for hazardous area applications and are impervious to dust, vapour, humidity and working temperatures ranging from -20 to +70 deg C. The hoists work uninterrupted with extended duty cycles (100 per cent duty rating), and have fail-safe starting and overload protection."
These benefits are further enhanced by the need for only minimal maintenance to achieve optimal performance. Profi TI hoists utilise a low-maintenance vane motor, and maintenance-free dustproof ball bearings for the chain sprocket, while the patented motor-brake system is designed to produce little wear. The planetary gearbox utilises long-life grease lubrication with all teeth made of tempered or hardened high-grade steel, while the chain and hook are also made from high-quality tempered steels with a breaking strength of five times the nominal designated load, he claims.
JDN offers six models for general industrial applications, with the numeral designating the carrying capacity in tonnes. For other applications, Profi TI hoists are available in lighter carrying capacities (from 250 kg) as well as in heavier versions (with up to a full 100-tonne capacity). All of JDN's Profi TI hoists are also available in a hydraulic drive version.
Typical applications include aircraft construction, general assembly lines, dairies, electroplating lines, paint shops, power plants, refineries, sawmills, shipyards and tempering plants. They are also used in a host of uses in the chemical, explosives, food, furniture, glass, oil storage, paper, textile industries, and other industries.
More Stories