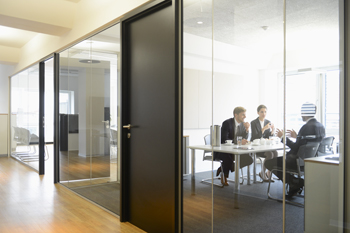 UBM opens the right doors for all needs
January 2018
Making the right choice when selecting a new door is crucial for many reasons including security, convenience, and creating a good first impression of the premises. From an architectural perspective, the door is one of the most important design aspects where the right colour, style, material and hardware is crucial, says Universal Building Materials Merchants Company (UBM).
The Saudi-based building materials specialist is a strategic partner in the kingdom for Assa Abloy, a key player in the door market in the Middle East.
"Through this partnership, UBM can offer a total solution for any project; from wooden and steel doors, security doors, door hardware, glass and access solutions. It also provides the construction industry with a single-source provider of doors and door hardware – one which is both a technically and professionally qualified supplier," says a spokesman for the company.
Assa Abloy's total solutions for projects include steel and wooden doors, locks, cylinders, access control and other related hardware, which meet the highest demands for safety, security and convenience for all types of buildings and applications.
In the Middle East, Assa Abloy offers the brands Lockwood for wooden doors and Prometal for steel doors. Both brands provide a variety of configuration and vision panel options, and have been tested according to American Standards (UL) and British Standards (BS). They are fire–rated, are suitable for various locations, and also comply with green building regulations.
According to the spokesman, Lockwood is a leading manufacturer of wooden doors for the commercial and residential markets, providing customers with a choice of designs that fulfil all their requirements for a high quality product from one reliable supplier. Its Polo residential wooden doors collection features the widest range of door designs, veneers and the finest finishes available in the market.
Prometal is a market leader in steel door technology with more than 17 years of manufacturing experience, catering to the commercial, residential, security and healthcare sectors.
He says both the steel and wooden doors are manufactured in the Jebel Ali Industrial Area. "The factory has a large manufacturing capacity and can respond quickly to requests from the UAE, and the wider Gulf, Middle East and Africa regions."
The production of Prometal's steel door, he adds, is based on unique technology, which involves joining steel sheets in door leaves by bending and through mechanical joints. This solution guarantees high resistance to corrosion and the perfectly smooth surface of the door leaf. The doors are made of galvanised steel or stainless steel sheets, and the door leaves are wrapped with foil to protect them prior to transport and assembly.
Both brands offer a wide range, from standard to fire-rated, insulated, acoustic, lead-lined, as well as special wooden and steel doors for hospitals.
Prometal also produces a special security range for VIP houses, airports and embassies that protects from intruder attacks and is bullet-resistant, in addition to detention and blast-resistant doors.
The products are well-designed, durable, and manufactured according to the requirements of the local Civil Defence regulations and to international standards. They have acquired certifications such as Program for the Endorsement of Forest Certification (PEFC), Forest Stewardship Council (FSC), and ISO9000:2008.
A standard steel honeycomb door of Prometal has an EPD (Environmental Product Declaration) from the Institut Bauen und Umwelt, a third-party institute based in Germany, which has assessed this declaration as per ISO 14025 and EN 15804. This EPD confirms that these products are suitable for the upcoming green projects in the region, the spokesman says.
UBM delivers some of the best products from around the globe to the kingdom's construction market. Founded in 1979, the company has branches throughout Saudi Arabia with its head office in Riyadh, and regional offices in Al Khobar and Jubail, in the Eastern Province; and Jeddah in the Western Province.
The company has a countrywide sales network through which it distributes world-class products from well-known brands like Zurn, Wilkins, Hunter Douglas, Nibco, Wilson Taylor, Bailey, SHW, Mandelli, Rocky Mountain, Baldwin, Raven, and Spark.
More Stories