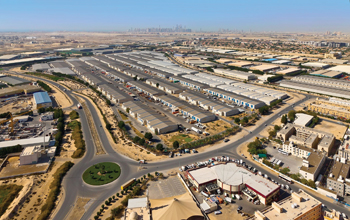 DIP sub-leasing deals up 36pc
January 2018
Dubai Investments, a leading, diversified investments company listed on the Dubai Financial Market, has announced a 36 per cent increase in sub-leasing contracts at its wholly-owned subsidiary Dubai Investments Park (DIP) in the first nine months of 2017 compared to 2016.
A unique integrated commercial, industrial and residential community in the Middle East, DIP offers a wide array of warehousing, storage and commercial facilities for large-, medium- and small-sized enterprises, besides dedicated plots for custom-build warehouses.
Nearly 68 per cent of the contracts pertained to existing subtenants, reflecting DIP's growing demand as a premier business destination in the region, says the company.
Of the new subtenants, 46 per cent are engaged in warehousing activity and five per cent in commercial activity; 35 per cent are leasing for staff accommodation, and 14 per cent for offices. Some of the new subtenants included Spectrum Automotive Services, Multi-Level Technology, Cheese Land, it adds.
Omar Al Mesmar, the general manager of DIP, says: "The sharp increase in DIP sub-leasing in the first nine months of 2017 period reflects the surging optimism in the regional business environment, coupled with the growing reputation of DIP as the preferred business destination."
Born out of a pioneering vision by Dubai Investments, DIP is today a booming community, accentuated by over 12,000 residential units, 120,000 residents, 20 million sq ft of office space, 18 showrooms, six schools, five operational hotels, besides 313 residential and staff accommodation buildings.
"There has been a strong demand for warehouses in DIP, as a result of its proximity to the Expo 2020 site and Dubai South," states the top official. "DIP has consistently developed its road network, upgraded its infrastructure and facilities, which continues to attract new tenants."
"Over the years, DIP has spent over Dh4 billion ($1.08 billion) in boosting the infrastructure to international standards, which includes 140 km of internal road network and well-integrated water and electricity systems, the best of hospitals, educational institutions, hotels, retail outlets, supermarkets and other lifestyle necessities," he added.
More Stories