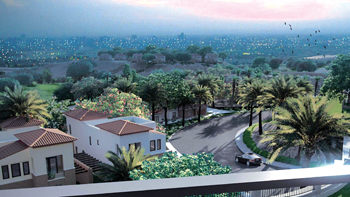 News in brief
January 2018
ASGC announces big wins in Cairo
ASGC, one of the leading construction groups in the UAE, is expanding its overseas portfolio with two new project wins in the Egyptian capital.
Emaar Misr has chosen ASGC as the main contractor for two of its upcoming flagship projects: Phase One and Two of the new Uptown Cairo project Levana, and the Crescent project within Cairo's Mivida development.
Its scope of work in Levana includes the construction of 121 villas and townhouses with a total built-up area of around 62,000 sq m, complete infrastructure works, landscaping, as well as utilities networks.
The Cairo Uptown project is the first integrated development in the centre of the Egyptian capital with easy accessibility from its neighbourhoods. Combining the best of urban and suburban design, Uptown Cairo offers suburban tranquility and city centre convenience, says ASGC.
ASGC adds that it has also started working on the crescent development at Mividia, which entails the construction of 13 apartment buildings, in addition to private gardens and landscaping, infrastructure, and more.
Mividia by Emaar Misr is located in New Cairo, integrating urban lifestyles with natural surroundings. The 3.8-million-sq-m development, which is just 20 minutes away from Cairo International Airport, will feature 5,000 homes designed by international architects.
UK's AIP buys Masdar portfolio company
Enviromena Power Systems, a leading clean energy project company in the Middle East and North Africa (Mena) region, has been acquired by Arjun Infrastructure Partners (AIP), a UK-based independent infrastructure investment advisory company.
A portfolio company of Abu Dhabi Future Energy Company (Masdar), Enviromena develops, deploys and operates clean energy solutions throughout the Mena region. With a project footprint spanning nine countries, it has installed more than 17,000 solar systems and has the largest portfolio of solar rooftops in the region. The company has over 175 MW of projects under operation and a further 500 MW under construction.
AIP is an independent infrastructure investment advisory company founded in 2015 by Surinder Toor, former head of Europe for the Global Infrastructure Investments Fund at JP Morgan Asset Management.
Enviromena CEO Sami Khoreibi acknowledges Masdar's support as an industry leader for the continued evolution of the energy sector across the region.
"This transaction comes at perfect time for Enviromena. The opportunity to deploy solar assets throughout Mena is happening now, and the strategic support and access to capital that AIP brings to the table enables us to enhance our position as the market leader," adds Khoreibi.
CB&I wins Sasref refinery deal
CB&I, a leading global player in the technology and infrastructure services sector, has announced it has been awarded a contract worth more than $95 million by Saudi Aramco Shell Refinery (Sasref).
Sasref is a joint venture between two of the biggest oil and gas companies in the world, Saudi Aramco and Shell.
The scope of work includes the engineering, procurement and construction management (EPCM) for Sasref's modernisation and expansion of its existing refinery in Jubail, Saudi Arabia.
On the contract win, Duncan Wigney, the executive vice-president of engineering and construction at CB&I, says: "This award demonstrates CB&I's ability to deliver value to Sasref and our other customers in the Middle East. It also enhances CB&I's position in the region as a leading provider of energy infrastructure solutions, from conceptual design to fabrication to EPC delivery."
CB&I, he states, had completed the conceptual design and Feed (front-end engineering design) phases of the project, while working with Sasref to optimise investment on the new refinery configuration.
According to Wigney, the relationship between CB&I and Sasref extends over more than a decade, and the duo have been collaborating successfully during this time.
The Aramco-Shell venture aspires to become the best petroleum refinery company not only in Saudi Arabia, but also in Asia and the Middle East.
CB&I's integrated solutions will give Sasref the operating flexibility needed to generate maximum returns through sustainable fuels production, which meets Euro V regulations for cleaner emissions, he adds.
More Stories