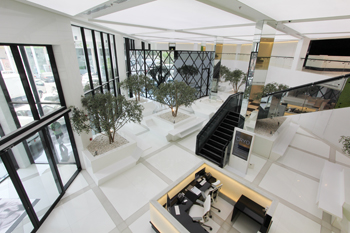 Al Nooh emerges a winner
January 2018
Bahrain-based Al Nooh Wood Design (AWD), a quality service provider in the fit-outs industry, is looking to boost its exports of bespoke furniture and specialised joinery items in the region.
In line with this goal, the award-winning firm continues to expand its product range and capacity by adding specialised and high-capacity machinery. It is also currently working on opening some specialised showrooms and joint ventures in the GCC, its managing director Hassan Al Nooh tells Gulf Construction.
One of Bahrain's foremost designers and manufacturers of custom wood exteriors and interiors and a leader in the field of interior fit-outs, AWD was the winner of the best stand at the Gulf Construction Expo (formerly gulfBID) in 2017 for the third consecutive year.
It undertakes full design, specification and production for all types of joinery projects to any level of scale or complexity, including installation on site. In terms of fit-outs, its service encompasses full design, specification, manufacturing and fit-out of interior projects of all types including residential, commercial, retail, hospitality, healthcare and educational, together with external and landscape features. It offers procurement services for all necessary or requested products to complete interior schemes including furniture, lighting and decorative pieces.
AWD also engages in full design, specification and mass production of components for interiors, including doors (both decorative and fire resistant) and frames, decorative panels and sections, kitchens, bedroom and bathroom storage, balustrades and handrails.
Highlighting the company's unique selling points, Al Nooh says: "We offer quality, accuracy, variety, durability, functionality and all the value and cost engineering required to achieve a quality product/project while still maintaining the integrity of design and purpose."
AWD is well equipped with specialised equipment and employs a qualified workforce that is knowledgeable and experienced in the field of joinery, fit-outs and turnkey projects of all sizes and specialties. This enables the company to confidently take on any project to the highest specifications and demand, he says.
Al Nooh says that business has been good over the past year and he is hopeful of greater prospects, given its proactive approach to expand its range and capabilities.
The bulk of its business is evenly distributed in all disciplines of the industry, Al Nooh adds.
Among the projects it is currently handling is a 17-storey serviced furnished apartmentd building, which will be operated by the Intercontinental group. Another project is a massive residential villa, involving all required joinery and decorative works, as well as palaces in the GCC region.
AWD's portfolio of successfully completed projects include the full fit-out for high-end jewellery shops such as the BJC at Four Seasons hotel and Boucheron at Moda Mall, and joinery work at Al Mahmood Pearls; the complete fit-out project for a leading bank including all wood works such as doors, flooring, ceilings, partitions, counters, cabinets, as well as all the electronic and mechanical work; the complete fit-out for Al Naseef restaurant; the complete fit-out for medical facilities such as Hospitalia by Yara; as well as striking residential villas.
With over 50 years of experience in the wood working sector, AWD, a member of AE Al Nooh and Sons, embodies a long tradition of craftsmanship and quality.
The company procures raw materials from all over the world, depending on the quality and availability. Some products are imported pretreated, while others receive specific treatment to achieve the required properties, resistance and durability required in line with certification.
More Stories