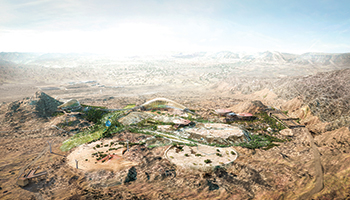 Shifting focus
Oman is taking the private sector on board for major projects as it tries to shift the focus from oil toward tourism, real estate and industry.
February 2018
Economic diversification are watchwords in the sultanate, which has a multi-pronged strategy in place to boost its economy through capitalising on its tourism potential, drumming investment into its industrial sector and developing its infrastructure to keep pace with demand.
Spearheading its tourism ambitions is the government-owned Oman Tourism Development Company (Omran), which has much to boast about in terms of milestones achieved in 2017, while Tanfeedh, a national programme for enhancing economic diversification, has envisioned more than 120 initiatives to energise the economy.
Among the initiatives mooted by Tanfeedh is a plan to establish an air cargo village at Muscat International Airport – where a new terminal is being commissioned – to position Oman as a regional hub for air cargo and air logistics services.
Other strategies being adopted by the government to diversity its heavily oil-reliant economy is developing its real estate sector – and in this Omran has been playing a key role. Among its notable projects are the Madinat Al Irfan, a mega urban development, and Madinat Sultan Qaboos Waterfront Development. Oman is also working on new regulations that will allow expatriates to own properties in the sultanate irrespective of the number of years they have spent in the country – a move that could give further impetus to the real estate sector.
Oman has also been promoting the growth of special economic zones, which have succeeded in attracting significant foreign investment. The current focus is on Duqm, which is a hive of activity with construction under way on a $7-billion refinery, a new port, and a $10-billion Sino-Omani industrial park.
The sultanate has also been seeking public-private partnerships (PPPs) to propel its infrastructure programme and its latest initiatives to raise $1 billion could go a long way in such efforts: Oman's sovereign wealth fund is planning to start an infrastructure fund to boost investment in its road, transport and energy projects, according to Bloomberg. The Middle East's biggest non-Opec oil producer last month tapped international capital markets by issuing $6.5 billion of five-, 10- and 30-year bonds.
Oman has been successful in launching several independent power projects (IPPs) and independent water projects (IWPs), highlighting its ability to attract global majors to expand the country's power and water desalination capacity.
All in all, global research firm BMI expects Oman to emerge as one of the fastest growing construction markets globally over the next five years, propelled by a business-friendly regulatory framework that attracts international investors into infrastructure projects. Rising oil prices in the coming years will act as an additional tailwind, allowing the government to direct state-driven funding to infrastructure projects.
BMI expects the construction sector to expand by 10.4 per cent in 2018 and by an average of 9.9 per cent over the next five years. "Acceleration in economic growth will generate additional demand for infrastructure and support robust rates of construction growth in the short term – real GDP growth in Oman will strengthen in 2018 and 2019, coming in at 3.2 per cent and 3.4 per cent respectively, following a projected 0.5 per cent in 2017", on the back of rising oil exports in 2018, it says.
Power & Water
BMI notes that the country has had particular success in attracting private capital into its energy and utilities subsector, which accounts of 71 per cent of current PPP projects in Oman's project pipeline.
Oman Power and Water Procurement Company (OPWP) is spearheading major plans to boost power and water supply. The sultanate's sole procurement utility early this year issued a request for qualification (RFQ) to select developers interested in building a 500 MW solar photovoltaic project in Ibri, which will be the country's first large utility-scale PV IPP. The estimated $500-million project is expected to be the first of a number of solar plants planned by the sultanate which intends to add around 4 GW of renewable generation capacity by 2030. Petroleum Development Oman has also made significant investments in solar energy (see Regional News).
OPWP is also looking to develop a 1,600 MW gas-fired IPP in northern Oman as well as another 800 MW IPP in Misfah, which are targeted to come on line in 2022 and 2020 respectively.
Meanwhile, civil works were completed in July last year on the Sohar 3 and Ibri IPPs, which will have a combined capacity of 3,219 MW.
In the water desalination sector, plans are being pursued for IWPs in Al Sharqiyah South (17.6 million gallons per day), North Al Batinah (44 million gpd), Dhofar (22 million gpd), Salalah Three (25 million gpd) and Ghubrah Three (66 million gpd). A consortium of Acwa Power, Veolia and Oman-based Dhofar International Development and Investment Holding Company (Didic) has been awarded the Salalah IWP; while four consortiums led by global players – JGC, GS Inima, Acwa and Tedagua – are believed to be in the race to develop the Sharqiyah plant, which is expected to start operations in the third quarter of 2019.
Two other smaller plants are also being developed in Khasab (3.5 million gpd), to be completed by late 2019 to cater to the Musandam governorate; and Duqm (13.2 gpd).
Meanwhile, in the renewables sector, Abu Dhabi's renewable energy company Masdar last year signed an engineering, procurement and construction (EPC) contract with a global consortium comprising GE and Spain's TSK to build the first large-scale wind farm in Oman and the GCC. The 50-MW Dhofar Wind Power Project will supply power to an estimated 16,000 homes.
Oman is expected select a consultant shortly for the development of a RO1.1-billion ($2.84 billion) wastewater project which will cover all the governorates of the sultanate. The project is being developed by state-owned Oman Wastewater Services Company (Haya Water).
Roads & Railway
According to BMI, the road subsector currently dominates Oman's project pipeline, with over 60 per cent of the total project value in the transport space.
Among the key projects currently under way is the $2.6-billion Al Batinah Expressway. When complete this year, the eight-lane, 260-km expressway will link Muscat to the border with the UAE. Plans are afoot to open the expressway up to Wadi Al Jizi in April, according to Oman News Agency.
The Ministry of Transport and Communications aims to float tenders shortly for its four-lane Muscat-Bidbid Expressway project. Meanwhile, work is in progress on the $1.1-billion Bidbid-Sur Road project.
While work on the GCC Railway is currently on the backburner, Oman is preparing the ground-work for the implementation of its Mineral Line railway network. The proposed 625-km line is one of several logistics-related investment opportunities that the government – represented by Tanfeedh – says is key to accelerating non-oil economic diversification. The line connecting the Shuwaymiyah and Manji areas to Duqm Port, also includes a connection to Thamrait, another mineral-rich area, envisaged in the second phase of the project.
Airports & Ports
Advanced trials at the new Muscat International Airport began at the end of December and the new terminal, which will be able to handle 12 million passengers per year, is expected to have a grand opening shortly. As part of further plans to develop the airport precinct, Tanfeedh is carrying out feasibility studies for establishing the Air Cargo Village in the zone.
A new terminal is being built at Duqm airport to support the massive growth of the Special Economic Zone at Duqm (Sezad), where a new port is also being built. Work is progressing on the construction of the container terminal and other key infrastructure at Duqm Port, which is expected to be completed by 2019.
The Sezad authority is also developing a liquid bulk terminal at Duqm Port at a cost of $515.4 million. Boskalis Westminster (Oman) was signed up last year to carry out detailed engineering designs, construction of marine infrastructure, and dredging and reclamation works. The terminal, linked to the greenfield refinery project, is under development near the port.
Economic zones
According to Sezad chief executive Lee Chee Khian, the free zone has attracted some $11 billion in investment for various projects, including the Duqm refinery and industrial ventures by Chinese investors.
Work is in progress on the $7-billion refinery, a joint venture between Oman Oil Company (OOC) and Kuwait Petroleum International, following the award of the three engineering, procurement and construction (EPC) contracts for the project. The 230,000-barrels-per-day (bpd)-capacity refinery's processing plants will be built by a joint venture of Tecnicas Reunidas and Daewoo Engineering & Construction, while Petrofac in joint venture with Samsung Engineering is responsible for all the utilities and offsites at Duqm. The third package for building a product export terminal at Duqm port, dedicated crude storage tanks in Ras Markaz and an 80-km-long pipeline connecting crude tanks with the refinery was awarded to Italy's Saipem. The refinery is expected to start commercial operations in 2021.
Sezad has granted Oman Tank Terminal Company (Ottco), an OOC subsidiary, a usufruct right to construct a crude oil storage terminal at Ras Markaz, about 70 km south of Duqm.
The economic zone continues to see investment and expansion. In 2016, Sezad attracted a record RO681 million in investments for major real estate and hospitality projects, while industrial investments totalled around RO187.6 million during the year. Among the major real estate investments is a RO390-million mixed-use project backed by Al Khonji Real Estate Development Company (Aqar).
Work was also launched in early 2017 on the China-Oman Industrial Park, a project where investments are expected to cross $10 billion by 2022, according to a news report. Under some 10 agreements signed last year, Chinese companies will implement $3.2 billion worth of projects at the park including a manufacturing facility for solar energy equipment, a water desalination plant, a power plant, a five-star hotel, and a building materials factory.
Among other projects, Oman Gas Company is laying a 221-km-long pipeline between Saih Nihyada and Duqm for the transportation of natural gas, work on which is currently under way.
Another key special economic zone is located at Sohar, which is looking at expanding its free zone capacity by 50 per cent.The current expansion, dubbed Sohar Port South, envisages the dredging and reclamation of a waterfront area on the southern boundaries of the hub. Tenders to provide consultancy services as well as the front-end engineering design (Feed) for the expansion were invited last October.
Plans are also being developed to build a fully automated container terminal at Sohar, taking its capacity to nearly six million TEU annually.
Trescorp Alliance is to build a 450,000-sq-m oil terminal in Sohar Port South. Construction of the first phase is slated to start this year to enable it to become operational by 2020.
Work is also progressing on the construction of the $1-billion Sohar Three, a new integrated gas turbine power plant in the port, which is targeted to commence operations by January 2019.
Real Estate
Madinat Al Irfan, a mega development by Omran spread over a 624-hectare plot outside the sultanate's capital, has seen a number of milestones at its prestigious Oman Convention and Exhibition Centre (OCEC). Following the opening of the exhibition halls in September 2016, the four-star Crowne Plaza opened last December.
Work is currently under way on Phase Two of the OCEC which is scheduled for completion in June 2018 (see Page 54).
Meanwhile, Omran is partnering with Damac International, a leading property developer in the region, to transform Mina Sultan Qaboos. The aim is to redevelop Mina Sultan Qaboos Waterfront into a $1-billion integrated tourist port and lifestyle destination.
Omran also has a joint venture with Orascom Development Holding known as Muriya, which is developing projects at Jebel Sifah, Hawana Salalah, Al Sodah Island and City Walk in Seeb. Muriya says it has invested over $650 million at its Hawana Salalah and Jebel Sifah destinations and has delivered 1,000 hotel rooms during the last five years.
Among Muriya's latest developments at Jebel Sifah is Golf Lake, which comprises 14 buildings and 131 apartments as well as lofts, overlooking Jebel Sifah's recently opened nine-hole Harradine golf course. The project is scheduled for completion in the fourth quarter of 2018.
The sultanate has also roped in a number of investors to push ahead with its plans to develop integrated tourism complexes. Palm's Beach Company – part of Alargan Towell Investment Company – is developing the RO265-million Al Nakheel Integrated Tourism Complex (ITC) in South Al Batinah.
Amouage Hotels & Resorts is to develop Naseem A'Sabah, a premium waterfront development on the northern shore of Al Mawaleh at Seeb in Muscat Governorate. Valued at $1.03 billion, the residential tourism complex will feature than 1,200 housing units and a world-class five-star hotel, and a business hotel with 600 rooms. It will also feature a marina and yacht club, as well as a mixed-use resort village. Construction work on the first phase is expected to start this year.
Quriyat Development Company (QDC) launched work last month on an integrated tourism complex (ITC) worth nearly $1 billion (see Regional News).
Among other projects, Oman's luxury destination Barr Al Jissah launched its latest phase with the ground-breaking on its Al Mina Waterfront Residences and Yacht Club, a key 'smart' homes project located outside Muscat.
Meanwhile, designs have been unveiled for Oman Botanic Garden, which will be located 35 km from Muscat in the foothills of the Al Hajar Mountains. Covering a 4.2-million-sq-m area, it will become one of the largest botanical gardens in the world on completion, celebrating the sultanate's botanic diversity.
Salalah, which is famed for its scenic beauty, is also enhancing its tourist appeal with the construction of a water park with a five-star hotel, a mall and five wedding and conference halls. Al Wasl Group for Development and Investment has been roped in to develop the project. The first phase of the water park is currently under construction.
Regional investors too are expanding their presence in the sultanate. Majid Al Futtaim, a leading UAE-headquartered shopping mall, communities, retail and leisure pioneer, is building what is expected to be the country's largest shopping destination when it is completed in 2020. The mall is located at Madinat Al Irfan and will host an estimated 350 outlets over 135,000 sq m of retail space.
Majid Al Futtaim is also developing the new City Centre Sohar mall, which is due to open in late 2018.
Another GCC firm, Al Mazaya Holding of Kuwait is set to see the completion of the first phase of its debut project in Oman this year. The landmark mixed-use Mazaya Residence is located in Al Seeb Province in the heart of Muscat. The second phase is expected to be completed in early 2019.
More Stories