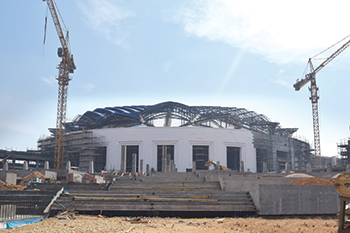 Meeting milestones
A 455-seat auditorium and a five-star hotel are the next to open at Madinat Al Irfan, where work continues at a steady pace.
February 2018
The sultanate's largest urban development project is gearing up for its next milestones – the opening this year of a 455-seat auditorium at the Oman Convention and Exhibition Centre (OCEC) and a five-star hotel – following the recent inauguration of the four-star Crowne Plaza Hotel within the project.
Madinat Al Irfan spreads over a 7.4-million-sq-m site in the Muscat urban corridor near Muscat International Airport and is 25 km from Ruwi. Its anchor development is the OCEC which marked the first successful year of operations of its 22,000-sq-m exhibition halls that have hosted well over 100 events since their launch.
The mega development – being spearheaded by Omran, the government of Oman's tourism development and investment arm – also witnessed the official inauguration last November of the 300-key Crowne Plaze hotel.
Work is now under way on the convention centre, a key component of the OCEC, under Package Three of the project and is being carried out by the Shapoorji Palonji, a leading Indian contracting firm. This package comprises the main convention hall (3,100-seat theatre one), secondary auditorium (455-seat theatre two), 1,350-capacity main ballroom, 575-seat Junior Ballroom, 500-seat food-court, 28 meeting rooms, and administration offices. Works also include MEP (mechanical, electrical and plumbing) installations, finishing and fit-out of the structural shell. The total gross floor area is 55,000 sq m.
The OCEC unveiled a few of its meeting rooms last December and the next to be launched at the precinct is the 455-seat auditorium and the 560-seat Junior Ballroom.
Speaking to Gulf Construction, OCEC's divisional head Eng Said Al Qasmi says 2017 was an excellent year, with the OCEC project achieving 32 million man-hours without lost time injury (LTI) and peaking at 5,000 staff and workers.
Convention Centre
Al Qasmi says the contractor has handed over five meeting rooms to support ongoing events at the exhibition centre and is in the process of handing over two ballrooms and a pre-function area.
The projected completion of this package is mid-2018.
Commenting on the progress of works on the various components of this package, Al Qasmi says, final fit-out and MEP works are under way on the ballroom. This includes ceiling works on the grand ballroom, lift and escalators final finishing, and gypsum ceiling works at Level 2.
"Commissioning has been completed on the Level 2 meeting rooms, while works are nearing completion on the Theatre 2 and Junior Ballroom," he says.
On the auditorium and rotunda, work is in progress on the facade, MEP services and interior fit-outs. Given its nature, the project demands a high level of MEP services including stage engineering and acoustic barrier works which are currently being implemented.
"The external stone cladding works have been completed on the eastern and northern portions of the rotunda, and are in progress on the western portion. Also marble stone works are virtually complete on the ground level and Level 2 concourse area of the rotunda, while work is about 25 per cent complete on Level 4," he adds.
Spider glazing works have also commenced on the project.
Similarly, work is at different stages on the food-court area, VIP pavilion, and hotel pavilion, where external works are drawing to a close and internal marble works are in progress.
Meanwhile, the contractor is also carrying out the external works simultaneously, including earthworks, water features, seating, landscaping, marbling, and canopy installation, which are either completed or are in the final stages.
JW Marriott Hotel
The 300-key, five-star JW Marriott brand located adjacent to the eastern boundary of the convention centre is under construction under Package Four. It includes east and west wings, a central 'drum', wellness wing, and a car-park zone.
The hotel comprises a distinctive building with an architectural character that both takes advantage of, and harmonises with, the surrounding buildings and the local environment.
According to Eng Ahmed Elhassan, senior director development, OCEC, structural and façade works have been substantially completed on the wellness wing, while MEP work is at an advanced stage. Internal finishing works on the guestrooms and corridors are in progress as well, while ceilings works in the wellness area are yet to start.
On the east wing, structural and facade works are almost complete, and internal finishing works are in progress. Structural works on both the central drum and west wing are also complete, while façade works, MEP and internal finishing are in progress. Interior works on some of the front-of-house public areas are due to start shortly.
Meanwhile, for the ballroom, structural steelwork is done and works in progress include the facade, MEP, and internal finishing.
Similarly, structural works including blockwork and plastering on the car-park, roof and external areas are nearly complete, with MEP, internal finishing works and landscaping in progress.
Omantel Headquarters
Meanwhile, the Oman Telecommunications Company (Omantel) headquarters complex, which is under development at the business park of OCEC, as houses two office towers sporting distinctive geometrical forms above a podium with three levels of semi-basement car parking for more than 1,200 vehicles set into a sloping site. The proposed project will incorporate several environmental features to meet the Leed (Leadership in Energy and Environmental Design) criteria.
The main office tower, the Moon, has a circular plan form with a 30-m-diameter central atrium rising from basement Level B1 to Level 6, with a glazed skylight enclosure. This building comprises ground-plus five office floors with a mechanical plantroom and a roof garden on Level 6. The second office tower, the Crescent – true to its name – has a crescent-shaped plan and comprises ground plus seven floors of office space. The two towers are connected by bridges at Levels 2 to 6.
The building is clad in a woven stainless steel mesh which incorporates complex contoured and inclined faceted planes.
According to Elhassan, work is currently under way on Level 4 of the Moon office tower, where columns and reinforced concrete walls, shuttering and concrete have been completed and shuttering for the beam and slab have commenced. On the Crescent tower, concreting of the Level 1 slab and beams were completed at the end of last year.
More Stories