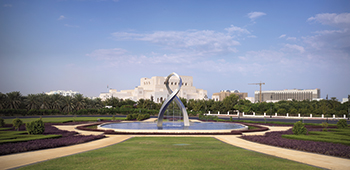 What-a sight!
February 2018
Leading engineers from the UK teamed up to give Oman an ingenious piece of art that sym-bolises both the use of modern technology and traditional knowledge.
The Arches of Oman is a ground-breaking 12-m-high water and steel sculpture by inspirational artist Giles Rayner, which was recently unveiled at the Royal Opera House in Muscat, the country's premier venue for musical arts and culture.
The extraordinary work of art is anticipated to become an iconic symbol not only in Oman, but in the wider Middle East. It offers unique views from all surrounding approaches and its stunning design includes purpose-built gardens, a purpose-built pool, 70 water jets, a subterranean plant room and 2 km of hydraulic hoses. The sculpture's jets provide four distinct patterns of water that project out of the piece and into the pool below.
The sculpture is formed from duplex stainless steel that is specified for extreme environments, according to Julian Glyn-Owen, the commission director for the artist. "Duplex provides enormous structural surface strength for the sculpture and the anti-corrosive properties needed in this coastal environment. It also has the surface finish Giles and the client desired," he says.
Generative Parametrics, based in Melksham, the UK, played a key role as design engineer of the project. The double curvature of the sculpture required the firm's highly specialist 3D modelling and design engineering skills. The company took Rayner's concept and developed it for fabrication, designing all components including the flat and curved surfaces, the nozzle housing and all other elements within the sculpture. Their modelling methodology was also used throughout the development and construction of the arches. Their parametric modelling techniques were central to the complex inter-relationship of the 70 water jets and brackets, access hatches, and the 1 km of internal hose housing. The fabrication of the designs alone required 12 months of work.
M-tec, a specialist division of WEC Group, worked from two sites in the UK – in Darwen and then at a second group subsidiary MTL, based in Rotherham.
Stephen Watson, responsible for fabrication of the sculpture, says: "Julian and Giles were highly motivated producing this large art piece. There was a strong team ethic from the outset, pooling ideas in group working sessions all over the UK. We frequently worked intensively together to develop solutions to some significant problems. This team was active throughout the three years of work and it has been a pleasure to have achieved such success with a delightful client in GR Sculpture and its design engineers, Generative Parametrics."
Once complete in the UK, the sculpture posed a significant shipping and logistics challenge to move to Oman. The total weight of all elements shipped was in excess of 50 tonnes consisting of specialist sculpture shipping jigs, water display pumping system and alignment rigs. Charles Kendall Packing and Freight managed the packing and delivery of the piece in five separate consignments over a 10-month period to Oman. Freight was moved as specialist wide-load escorted haulage down from Rotherham, then shipped out of Southampton and trans-shipped into Sohar, Oman, before being moved 250 km to Muscat.
Truck Oman North, an oil and gas drilling rig location business, assembled the sculpture once it was on Omani soil alongside Rayner and Glyn-Owen. This took place during June 2017, throughout the hottest time of the year and the holy month of Ramadan. Five cranes were used in the horizontal assembly of the piece, before it was lifted to the vertical and moved into position for fixing down. An 11-tonne framework jig was used to align the sculpture's main components and lift them into place.
Locally throughout the project, Rayner and his team enjoyed support from a wide cross-section of community groups in Oman, including British expats and The Anglo-Omani Society and local engineering firms such as United Engineering Services.
Glyn-Owen says the completion of The Arches of Oman represents a triumph for this international team. "Different parties were required to understand each other's goals and, in some cases, to operate outside their normal capabilities to mesh these complex design requirements together in one sculpture."
In his role as commission director, it was Glyn-Owen's task to glue these teams together and ensure that the end result was aesthetically perfect, fitting Rayner's vision for this massive water and steel sculpture. He confirms that the new feature has already garnered "significant international attention" since it was completed.
Summing the teamwork and British engineering ingenuity, Rayner says: "I am intensely proud of what we can achieve in the UK with both our industrial heritage and our thinking out of the box. I want us to retain our ability to create unique, bespoke creations, not just in the art world. Our versatility and imagination as a nation is significant. I fear that this important aspect is not nurtured enough. The Arches could be recognised as a very good example of how we can exercise sensitive and yet bold design and thinking in other parts of the world. I wish this design to be recognised not just as my vision, but also the creation of those vital people in the team."
More Stories