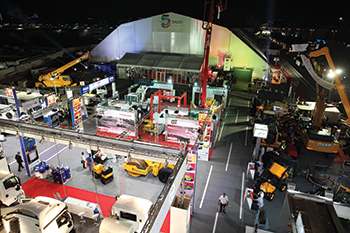 Powered by Vision 2030
When it opens next month in Jeddah, The Big 5 Saudi 2018 will provide a showcase of the latest innovations worldwide and an insight into the kingdom's fast-evolving economy.
February 2018
The Big 5 Saudi, a premier construction event in Saudi Arabia, is returning next month (March 5 to 8) offering a showcase for the products and services of more than 435 international and regional exhibitors in Jeddah.
The renowned expo at the Jeddah Centre for Forums and Events is expected to attract more than 15,000 visitors, according to dmg events Middle East, Asia and Africa, the event organiser. It will bring together international manufacturers of construction machinery, mining equipment, building and natural stone to do business and network under one roof.
"Thanks to Saudi Vision 2030, the Saudi construction market has tremendous growth potential and this pushes demand for the building solutions and products which will be on display at The Big 5 Saudi in March," Roni El Haddad, event director, tells Gulf Construction.
"An increase in international exhibitors with concrete and concrete-related products at this year's edition of The Big 5 Saudi signifies the attraction that a growth in infrastructure development offers to the building community on a worldwide scale," he adds.
The show includes dedicated sectors for interiors and outdoor design.
"The interiors sector constitutes 15 per cent of the average construction project value. Saudi Arabia is the largest interiors market in the GCC worth an estimated $1.5 billion. Building Interiors at The Big 5 Saudi gives you direct access to this lucrative market," says a spokesman for the organiser. "Building interior professionals from Saudi Arabia will be attending to source innovative and sustainable products for their next projects."
Exhibitors can gain exposure to not only the high volume of construction professionals visiting the show but also visitors specifically eyeing the interiors market, he adds.
There will also be an outdoor zone with heavy equipment, machinery and warehousing products.
"For 2018, we have more international exhibitors, 50+ certified workshops, and more innovative products, which means you can learn, network and source – all in one place," says El Haddad.
The free-to-attend CPD (continued professional development) certified workshops will focus on four themes: General Construction, Project Management, Sustainability, and Architecture and Design.
Visitors at the workshops will be able to get an insight into the industry's hot topics such as the Saudi real estate market (presented by Ibrahim Albuloushi, JLL KSA); '3D Printing – A New Manufacture Era' (Anas Elsayed, 3D Printing world), 'Lean Construction in the Era of Artificial Intelligence' (Dr Hamad Al Jassmi, College of Engineering, UAE University); BIM Implementation (Sara Ibrahem, BIM Boom); 'How Internet of Things is Re-shaping the Construction Industry' (Alaa Dalghan, Advantech B&B SmartWorx); and 'Housing with Containers' (Maqsood Ahmed, Specialty Structures USA).
Among the speakers on the General Construction theme will be Albuloushi, national director and country head of JLL in Saudi Arabia; Ahmed El Damaty, project controls lead, UAE and Oman at Aecom; Essam Mohamed Lotfi, ELV-projects manager at Naffco; and Ahmed Seoudi, project manager, Dar Al Handasah.
Speakers at the project management workshops include Hisham Haridy, project management director, Knowledge Valley, management and consultation services –Saudi Arabia; Diaa Khalaf, PCS engineer at Projacs International; and Nael Mattar, professional services director, Rowad, among others.
Discussing key topics on sustainability at the workshops will be Engineer Omar Al Touqi, senior civil engineer at the University of Jeddah; Mohamed Zackariah, chief consultant at Suhaimi Design – Protecooling; Dr Mohammed S Al Surf, USGBC Faculty, Leed Green Associate, architect, chairman of education and scientific committee at the Saudi Green Building Forum; Mostafa J Sabbagh, assistant professor at the Department of Architecture, King Abdul Aziz University; and Dalghan, general manager – UAE and director – Middle East and Africa, Advantech B&B SmartWorx.
And speaking on the architecture and design theme will be Mohammed Serroukh, vice-president Business Strategy, Kapsch TrafficCom Saudi Arabia Company; Maqsood Ahmed, design director, Specialty Structures USA; and Safi Marroun, business developer at Youssef Marroun Contracting Company, among others.
Last year, about 15,000 visitors attended the event which showcased the products of 400 exhibitors over 12,300 sq m of exhibition space. There were also about 6,700 workshop attendees.
More Stories