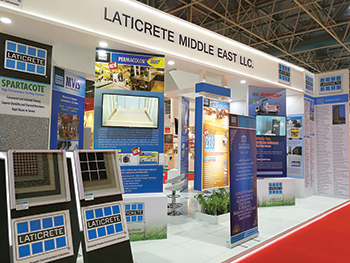 Concrete coating in spotlight
February 2018
Laticrete, a leading manufacturer of tile and stone installation systems, waterproofing systems, construction chemicals, floor coatings and surface care products, is returning to The Big 5 Saudi 2018 to promote its products, among them a coating system for concrete that offers several advantages.
Laticrete Middle East last participated in the event in 2016. Commenting on its participation this year, Laticrete Middle East's general manager sales and marketing Vivek Mohile tells Gulf Construction: "We want to create awareness about our products range and build our market share."
Elaborating on the Spartacote concrete coating system, he says, the product's extended working time enables contractors to successfully install materials, while enhancing the consistency and finish of seamless, resinous concrete flooring systems.
Spartacote offers rapid cure properties. "This highly refined and consistent film is designed to dry within one to two hours and drive on within 24 hours. Spartacote can be applied in any climate and temperature, well below that of standard epoxies and urethanes – there are no limitations for minimum cure temperatures," says Mohile.
While offering superb durability, the coating does not incorporate excessive non-reactive additives. "Competing materials do this to help compensate for reduced pot life and to reduce costs, consequently diminishing the product's performance," says Mohile.
He further says Spartacote's patented technology was designed to effectively absorb into the concrete or steel substrate in order to bond within the pores of the material, thus ensuring superior adhesion. "This is a fundamental component differentiating Spartacote from other products; this technology allows for maximum adhesion surface area and is the cornerstone of our superior performance," he points out.
Other features of the product include superior lasting resilience. Film tightening is a common issue for polyaspartics, which can impair adhesion and increase the potential for coating failure. But Spartacote polyaspartics resists film tightening over time following full chemical cure. Additionally, it does not exhibit the excessive bubbling or roller marks often associated with polyaspartic coatings.
Furthermore, Spartacote offers chemical resistance to a wide range of commercial and industrial chemicals, and full resistance to Skydrol and other highly corrosive fluids. Spartacote's100 per cent ultraviolet (UV) clear topcoats and UV-stable pigmented coatings provide a rich and long-lasting finish that will not fade, amber or peel.
Laticrete's concrete coatings and sealers can be used in higher traffic areas where traction is key. This is achieved in conjunction with a quartz or silica additive within the coating process.
At its stand, the company will also be showcasing waterproofing systems, adhesives, epoxy adhesives, grouts, epoxy grouts, and sealers.
Mohile is satisfied with business, which he says is growing. The company has signed new dealers and plans to launch manufacturing facilities in Saudi Arabia.
Laticrete is currently supplying to a number of projects in Saudi Arabia including Al Dara Hospital, Saudi Aramco projects, and King Abdulaziz International Airport in Jeddah.
The US-based Laticrete set up its regional office in the UAE, with a local production unit in Ras Al Khaimah in May 2003. From this base, Laticrete serves the Middle East and Africa.
Laticrete will be exhibiting at Stand 2D60 at The Big 5 Saudi 2018.
More Stories