Road Construction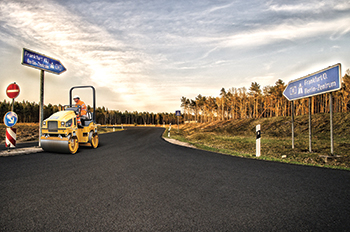 New Cat compactors set to show prowess
February 2018
Caterpillar has launched new utility compactors that are easy to operate, simple to transport, and quick to service, enabling their operators to become more efficient and profitable. These new models provide excellent versatility in the 2.5- to 2.9-tonne size class.
The new CB2.5, CB2.7, CB2.9, and CC2.6 utilise a weight-based nomenclature that signifies their standard operating weight in metric tonnes, making it easy for customers to choose the machine that best fits their needs. Typical applications include streets, bike paths, courtyards, patchwork, parking lots, driveways, town centres, and shoulder work.
These new utility compactors are equipped with a C1.5 engine that meets emissions equivalent to US EPA Tier 4 Interim, EU Stage IIIA, and China Stage III emission standards. It delivers 22.3 kW of power and performs effectively in tough conditions.
The machines make moving to a new job site much easier. The single-point lifting option and durable hitch design makes hoisting the machine onto transport vehicles quick and easy. The spokesman says the new models are designed to easily fit in a rental fleet. The Product Link capability on the machines enables close monitoring and keep owners informed of machine location and service needs.
More Stories