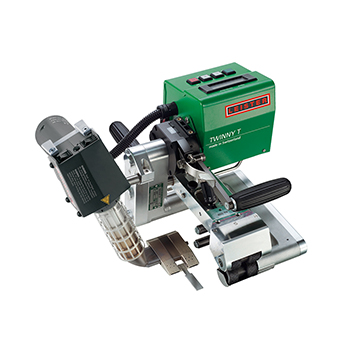 Leister tools tackle tunnel vision
February 2018
Leister tools have been playing a big role in the construction of Tunisia's first road tunnel, which is being built as part of the country's drive to invest in its road infrastructure with the aim of stimulating economic and social development.
The country is building road tunnels that feature state-of-the-art sealing work using geosynthetics. Tunisia's Perla Group, a leading company in the field of sealing work and solutions for property and infrastructure projects, has been assigned the job.
In all, there will be four tunnels that will link the GP10 and X thoroughfares over a 3-km distance in the Tunis and Ariana regions and each tunnel will have four lanes. The tunnels are covered trenches whose length stretches over 1.2 km in total. Construction is scheduled to be completed within 30 months.
The project aims to not only establish an improved link between the city of La Soukra and the main Tunis arteries, but also reduce the volume of traffic at Tunis-Carthage International Airport and on the major roads that surround it.
For the project, Anis Samara, technical director and partner at the Perla Group, knew that the company could only rely on Leister.
He says: "Perla is executing the sealing work for all four tunnels simultaneously. To ensure that a high standard of quality is maintained consistently, we are using Leister automatic machines and tools for welding and sealing the PVC membranes."
Perla opted for Leister's Twinny T automatic welder because it has already proven itself in dozens of tunnel projects around the world – the most famous application being at Switzerland's Gotthard Tunnel, which is more than 50 km long and was opened to rail transport in 2016.
Along with the Twinny T, Perla is using the Twinny S automatic welder and Triac ST tools to weld a total of 30,000 sq m of translucent PVC membranes of 2-mm thickness, as well as 1.9 mm protective membranes. To seal the tunnel walls, Leister automatic welders and hand tools will be used in both vertical and horizontal positions.
The Twinny T is fully controlled and ensures that both temperature and welding speed remain stable under changing site conditions. Tunisia experiences significant temperature fluctuations, ranging from up to 40 deg C in summer, to a somewhat frosty average of 0 deg C in winter.
Samara says Leister automatic welders ensure stability and that the parameters are consistently monitored during the welding process. Leak-tightness is being tested using compressed air testing equipment in the inspection duct between the two edges of the welding seam.
Switzerland-based Leister is a manufacturer of hot air plastic welding equipment, process heat components, laser welding systems, gas sensor equipment and micro-optics.
More Stories