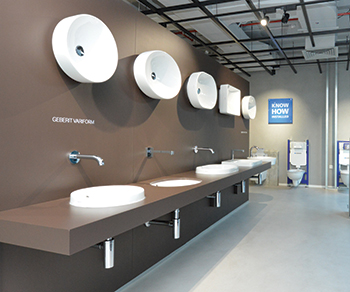 VariForm for all settings
Geberit has recently launched new washbasins and WCs that meet modern demands for enhanced aesthetics and hygiene.
February 2018
Geberit, a European leader in the field of sanitary products, is offering VariForm, a new washbasin range that fits any setting in the public, semi-public and private domains.
Available in a variety of different sizes and shapes, the extensive modular system features under-countertop, countertop and lay-on washbasins, thus ensuring complete design freedom. It comes in four important basic geometric shapes – circular, rectangular, oval and elliptic.
The washbasins are timelessly beautiful thanks to their particularly slim rims, says a company spokesman.
The countertop and lay-on washbasins are offered with or without a tap hole bench. This means the tap can be attached to the ceramic appliance or the under-countertop plate as a deck-mounted tap or to the prewall installation as a wall-mounted tap, depending on the requirements, desired design and construction situation.
Thanks to its design and use of high-quality sanitary ceramic, the surface of the washbasins is crack-proof, scratch-proof as well as easy to clean.
All VariForm washbasins have a generous basin depth and are offered in various dimensions. The round countertop washbasins come in 40 and 48 cm diameter size; oval in dimension of 50 by 40 cm, 50 by 45 cm, 55 by 40 cm, 55 by 45 cm and 60 by 48 cm; elliptic in 60 by 40 cm and 60 by 45 cm; rectangular in 55 by 40 cm and 55 by 45 cm; and the semi-recessed in a round design has a diameter of 50 cm.
The under-countertop washbasins are available in a round design with a diameter of 33 cm; oval in 42 by 33 cm and 50 by 40 cm; elliptic in 55 by 40 cm size; and rectangular in 45 by 35 cm and 50 by 40 cm.
With the lay-on washbasins, the round version is 45 cm in diameter; oval comes in 55 by 40 cm and 60 by 45 cm; elliptic washbasins 55 by 40 cm, 50 by 40 cm and 60 by 45 cm; and the rectangular version are offered in 55 by 40 cm and 60 by 45 cm.
"With the comprehensive VariForm range, together with the company's portfolio of urinals, toilets, washbasins, electronically-controlled taps, waste fittings and the installation technology behind the wall, building owners, planners and project managers have access to consistent system solutions from Geberit. This means reliability, quality and service support for sanitary projects," says the spokesman.
Spotless Rimfree
Geberit recently introduced innovative technology called Rimfree, which has dispensed with difficult-to-clean corners and edges.
Hygiene plays a very important role in the bathroom, however the flush rims of the traditional WC (water closet) pan provided space for dirt and deposits to collect and made cleaning difficult.
"However, modern WC ceramics are now rimless, with a clean, streamlined design. At Geberit, this technology is called Rimfree.
"The Rimfree WC is completely rim free; no flushing rim, no apron, no notch. This means that there are no hard-to-reach areas and even the slightest dirt particles are immediately visible. The flushing technology works with a patented flush guide that guarantees an optimal rinsing process and a perfect result even with a minimum amount of water," says the spokesman.
Geberit's flush technology, he says, doesn't only begin directing the water once it reaches the WC pan, but rather before.
The key to Geberit's Rimfree technology is a patented flush distributor. It is designed in such a way that the water is precisely directed where it is needed for a clean and thorough flush – and only there. It thoroughly rinses out the WC pan using only a minimum of valuable water.
Headquartered in Rapperswil-Jona, Switzerland, the Geberit Group has more than 30 production facilities, of which six are located overseas. In December, Geberit officially opened its new information centre in Dubai Design District (d3).
More Stories