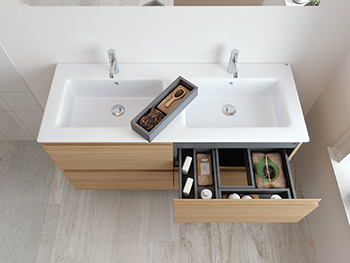 Bathrooms for 21st century homes
February 2018
Bathrooms from RAK Ceramics offer all that is required in the modern-day setting: technology to help conserve water, tiles with limitless design possibilities, and complementary accessories.
Technology plays an important part in modern design at every stage and in every room, including bathrooms. Water-saving technologies, super-sized slabs, stylish furniture and modern lighting techniques are all now used to create contemporary bathrooms and allow designers to customise and personalise the space, according to the spokesman for the UAE-based company.
He points out that environmental awareness is high on the agenda and technologies that help to reduce water consumption are now the first choice for modern bathrooms, with energy-efficient and cost-saving solutions such as low-flush and dual-flush in high demand.
"With a strong focus on water-saving technology, RAK Ceramics was the first manufacturer in the region to introduce a three-litre half flush and 4.5-litre full flush for its water closets. Our latest flushing system RAK-Ecofix – incorporating state-of-the-art water-saving technology and a dual-flush 4.5/3-litre and 6/3-litre options – allows customers to save from 30 to 50 per cent in water consumption with every flush," he continues.
RAK-Ecofix is an efficient and integrated solution for drywall, solid-wall or low-height applications and includes a new collection of push plates, in two different designs and three finishes – white, chrome and matt chrome.
In terms of design, RAK Ceramics offers virtually limitless possibilities for surfaces.
"Imagine a tiled space with virtually no grout lines, and kitchen or bathroom counters made from a single piece of porcelain," says the spokesman. "With the increasing popularity of super-sized slabs, it is now possible to create bathroom surfaces out of a single piece of porcelain, reducing the need for unsightly grout lines and creating a seamless look."
Maximus is the new generation of mega-slab applications by RAK Ceramics and is also suitable for creating beautiful bathroom vanity tops. Heat resistant, recyclable, lightweight, durable and easy to clean, Maximus for countertops is available in the gigantic size of 135 by 305 cm and 14.5 mm thickness. It is available in three different sizes for walls and floors: 120 by 120 cm, 120 by 240 cm in 10.5-mm thickness, and 120 by 260 cm in the new 6-mm thickness.
As a complete solutions provider, RAK Ceramics also offers a range of complementary accessories and bathroom furniture. Its most recent furniture collection is RAK-Joy, which complements RAK Ceramics' range of contemporary bathroom suites beautifully. A totally new collection of vanity furniture and mirrors, RAK-Joy is available in four finishes: Pure White, Urban Grey, Grey Elm and Scandinavian Oak.
"This sleek and stylish furniture range comes with integrated thin drop-in washbasins allowing customers to create a look that is seamless," the spokesman says.
Use of lighting plays an important part in personalising bathroom spaces and the use of feature lighting can add to the feeling of peacefulness and serenity. Therefore, the matching mirrors in the RAK-Joy collection can be upgraded to feature integrated lighting. With its clean lines accentuated by the J-pull handle profile, RAK-Joy offers the perfect bathroom storage solution, the spokesman concludes.
More Stories