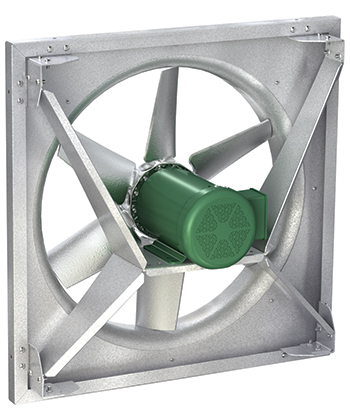 New Greenheck fans are quiet performers
February 2018
Fitted with the energy-saving Vari-Green motor, Greenheck's new fan models offer high performance and ensure low maintenance cost.
Its new Model EQD direct drive mixed flow inline fan has the Vari-Green motor mounted inside a patent pending octagonal housing. The motor's variable speed control matches fan performance with facility demand and requires virtually no maintenance.
According to a company spokesman, the compact housing is manufactured of formed galvanised steel panels coupled with a heavy-gauge steel drive frame for exceptional strength and durability. Standard universal mounting supports, field-rotatable housing, and removable duct collars allow for easy installation.
"The unique octagonal housing coupled with the aluminium mixed flow wheel's straightening vanes improves fan efficiency and helps reduce sound levels by converting swirling airflow into straight laminar flow," says the spokesman.
The Model EQD offers a performance range up to 4,250 cfm and static pressure up to 2.5 in wg (inch water gauge), and is ideal for indoor, commercial clean air applications where quiet, economical operation is desired such as office buildings, educational facilities, hospitals, manufacturing facilities and multifamily housing.
Another new fan from Greenheck, the Model AER direct drive sidewall propeller fan moves 30 per cent more air compared to similar fans, allowing a smaller fan size to be specified to achieve the desired performance while reducing first cost.
Featuring a cast aluminium propeller and a unique aerodynamic drive frame that helps maximise efficiency, Model AER offers expanded performance up to 29,000 cfm and external static pressure up to 2.45 in wg.
The fans are available in four sizes ranging from 20 to 36, and can be specified in exhaust or supply configurations. Direct drive motor options are available up to 1 hp for Vari-Green EC motors and up to 7.5 hp for AC motors.
AMCA (Air Movement and Control Association)-licensed for sound and air performance and UL/cUL-listed, Model AER is ideal for industrial and manufacturing facilities and warehouses.
US-based Greenheck is the leader in manufacturing and distributing air movement, conditioning and control equipment. Its equipment is used in commercial, institutional, and industrial buildings in applications from comfort ventilation to manufacturing processes.
More Stories