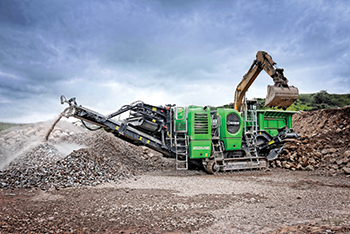 Bison, compact but 'not a lightweight'
February 2018
EvoQuip has expanded its extensive portfolio for the compact crushing and screening market with the launch of the Bison 280 jaw crusher.
According to EvoQuip's product line director Matt Dickson, the Bison 280 jaw crusher is a machine that offers versatility with supreme durability while providing excellent productivity and fuel efficiency.
He says the quick set-up times, simple intuitive operation and ease of transport makes this machine an ideal solution for all applications, whether construction and demolition, asphalt recycling, quarrying or contract crushing.
A number of key design features in the Bison 280 ensure an optimal material flow throughout the crushing process. The vibrating feeder automatically regulates the flow of material into the crusher based on the engine load and this ensures that an optimal choke feed is kept in the jaw. The impressive under-crusher clearance along with the excellent tunnelling then ensures an unrestricted flow of material even in the harshest recycling applications, he adds.
The Bison 280 uses a fuel-efficient and high-performing direct drive system to power the jaw crusher. This, along with the simple-to-operate jaw adjustment, allows the operator to optimise the material throughput and reduction whilst ensuring the best fuel efficiency.
Serviceability has been integral throughout the design and development of the Bison 280. With excellent access to the engine, hydraulics, service and refuelling points, it ensures maintenance is easy for the operator.
Speaking about its manoeuvrability and versatility, Dickson says: "EvoQuip machines can come directly to your site to crush and screen the waste from your demolition projects. Customers can use EvoQuip equipment to demolish old farm buildings, process material for lanes, driveways or drainage projects. Certain models in the range can even be transported on an agricultural trailer and can overcome access issues on narrow lanes, country roads and remote access sites.
"The Bison 280 can be used on a multitude of natural stone applications including granite, river gravel and basalt. It can also be used on various recycling applications including construction and demolition waste, recycled concrete and reclaimed railway sleepers."
The EvoQuip Bison 280 has been working in a tough granite site at Peter O'Donnell and Sons Quarry in Ireland. According to the quarry's managing director Peter O'Donnell: "The productivity and performance of the EvoQuip Bison 280 really has surpassed our expectations. While the machine itself is very compact, it is definitely not a lightweight machine as it consistently produced a quality product at a high throughput and low cost per tonne in our quarry."
EvoQuip is part of the Terex Corporation, a lifting and material handling solutions company reporting in five business segments: aerial work platforms, construction, cranes, material handling and port solutions and materials processing.
More Stories