Regional News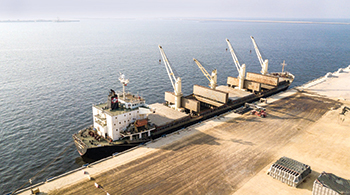 Saudi grant for Oman port development
February 2018
Saudi Arabia has agreed to provide a $201-million grant to Oman for two development projects at the Port of Duqm in the sultanate, said a report.
The funding, to be provided by the Saudi Fund for Development, will finance a RO61-million ($158 million) fishing facility and a road project worth RO20 million aimed at linking it to A'Duqm city, reported the state-run Oman News Agency.
The funding is part of developing economic cooperation between Saudi Arabia and Oman and the joint programme for the development of GCC states, said the report citing the finance minister.
Darwish Al Balushi explained that the grants will help develop the Special Economic Zone at Duqm (Sezad) and increase the capacity of the fishing harbour.
The Port of Duqm is managed by Port Duqm Company, a joint venture between the Omani government and Belgium's Port of Antwerp.
Oman wants to develop Duqm into a major hub, and is building a 230,000-barrels-per-day oil refinery there with Kuwait.
More Stories