Saudi Focus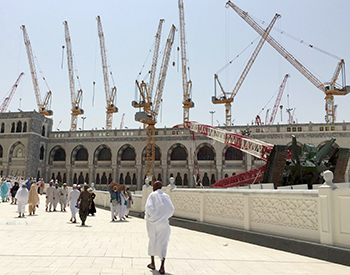 SBG investors may sell stakes to government
February 2018
Leading construction giant Saudi Binladin Group (SBG) has asserted that it remains a private sector company owned by its shareholders amid reports that some of them may transfer their shares to the government as part of a financial settlement with authorities.
The clarification comes after some media outlets suggested that the Saudi government has taken over SBG, which has worked on dozens of mega-projects throughout past decades.
SBG also confirmed that contracted work with the government, which remains a large part of its activities, is ongoing. This includes the projects at the two holy mosques and the Zamzam rehabilitation project, which began months ago and is expected to end before Ramadan 2018, the company said.
Based on information available to the management, some of the shareholders may have agreed a settlement that involves transferring some SBG shares to the goverment of Saudi Arabia against outstanding dues, it stated.
SBG said it sees this as a positive step and is currently restructuring its governance and executive management team to meet its commitment toward all stakeholders.
Restructuring efforts started two years ago with the objective of separating ownership from management in accordance with best governance standards, it stated. To support these efforts, a five-member supervisory committee has been constituted. It comprises three independent members and two members from the shareholders group, said the company.
More Stories